Pool Safely Kicks Off Summer Swim Season 2020
July 7, 2020

Dear Pool and Spa Safety Community,
As we settle into summer, we hope our June newsletter finds you and your families safe and healthy. Summer vacation plans and activities look different from previous years. Many camps have been canceled, swimming lessons put on hold, and public recreational swimming is restricted in some states. While some pools remain closed, others are gradually starting to reopen. Meanwhile, social distancing guidelines continue in an effort to help curb the spread of COVID-19.
With temperatures rising, many families will look for ways to cool down and relax as they spend more time at home with curious young ones and idle teens. These circumstances increase the need for water safety awareness and water watcher vigilance. Pools and spas of all shapes and sizes, including portable pools, present risks for drownings.
Read on to learn about the latest Pool Safely campaign updates and how we kicked off the summer 2020 swim season. Here, we share new ways to pass along water safety tips to your family, friends, and neighbors in communities around the country.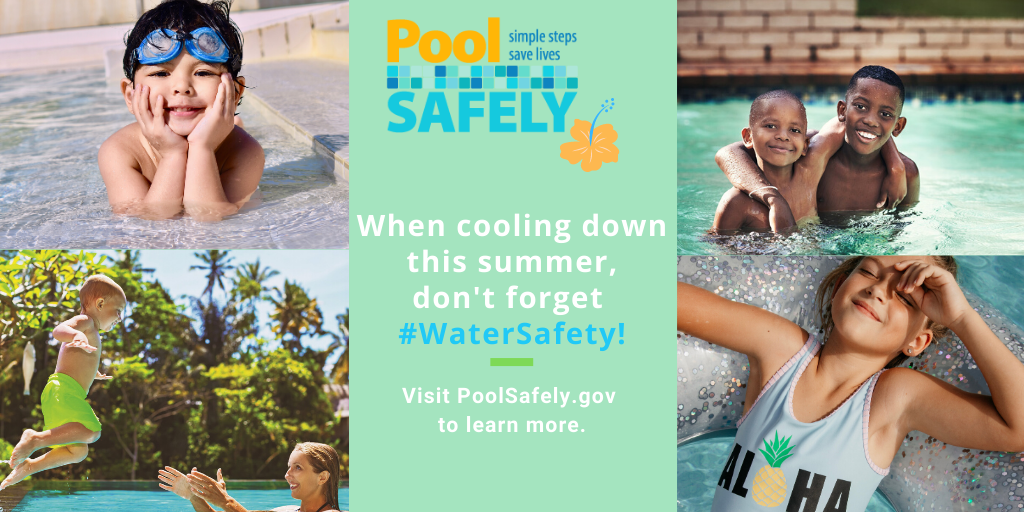 New CPSC Report Finds Steady Rise in Fatal Child Drownings 
CPSC's new report underscores the need to stay vigilant about drowning prevention, particularly as many families prepare to spend more time at home this summer to decrease the spread of the coronavirus.  CPSC's data show a concerning spike in child pool and spa drownings across the country, with an average of 379 reported pool-or-spa-related fatal drownings per year. Most of these drowning fatalities occur in residential settings, such as a child's home, a family or friend's house or a neighbor's residence.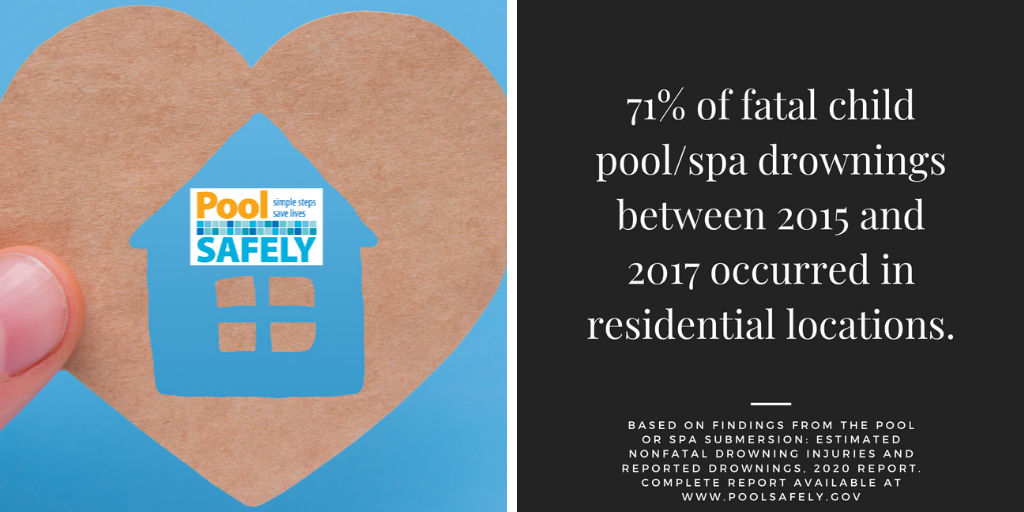 The new data also show that children younger than five years old account for 75 percent of child drownings, 56 percent of which are attributed to a gap in adult supervision. Additionally, an average of 6,700 children are treated in hospital emergency rooms for nonfatal pool and spa drowning injuries each year.
In response to these numbers, CPSC's Acting Chairman Robert Adler is urging everyone to double down on their commitment to water safety and to follow Pool Safely's simple steps to keep children safer, no matter where they are spending time around the water this season, and particularly during an extended time at home.
Visit the Pool Safely resource library to view the full CPSC report, and check out our latest blog post for more resources to help you Pool Safely at home this summer.
Pool Safely Launches "Ask the Experts" Video Series to Jumpstart Summer Swim Season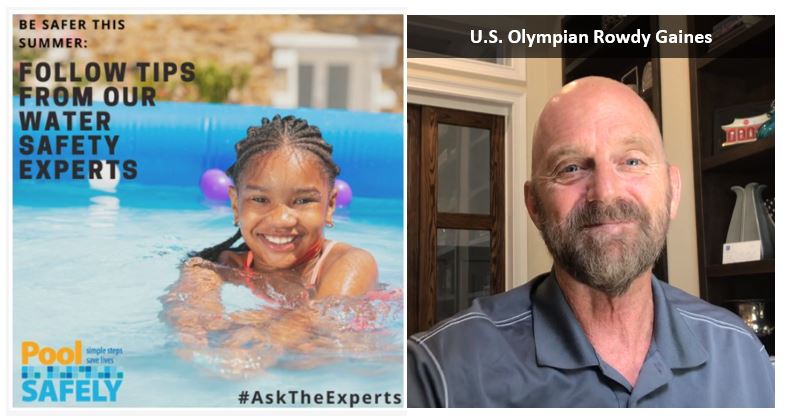 In a continuing effort to provide families with valuable water safety information this swim season, we are collaborating with our community of drowning-prevention experts and advocates to share their top tips for how to Pool Safely in a new Ask the Experts video series. Follow along with us on social media all summer as we share short videos highlighting safety tips to help you Pool Safely at home. Contributors to the series, to date, include CPSC Commissioner Peter Feldman, Nicole Phelps on behalf of the Michael Phelps Foundation, Bridget McKinney from the American Red Cross, U.S. Olympian Rowdy Gaines, Miriam Lynch from Diversity in Aquatics, and many more!
Are you interested in telling us how you Pool Safely and submitting your own #AskTheExperts video for consideration in the series? Email us at poolsafely@cpsc.gov for instructions.
New on the Blog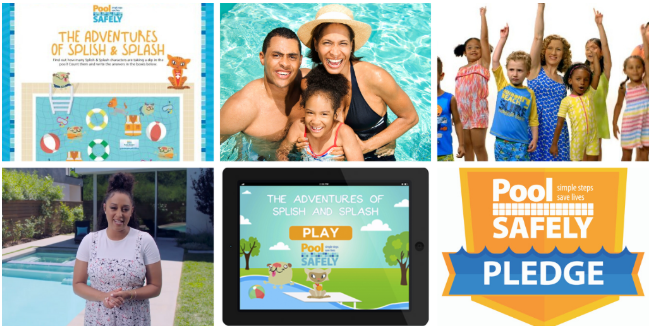 With more restricted access to community pools, many families will be turning to above-ground pools, residential pools, and open bodies of water to cool off during the warmer months. Because these alternatives do not always have lifeguards present, water safety vigilance remains as critical as ever. Our May 2020 Pool Safely Blog Post provides six unique digital resources to help the whole family work together to Pool Safely at home this summer, including: new activity worksheets, the S.W.I.M. tool, the Pool Safely app, and more.
Honoring International Water Safety Day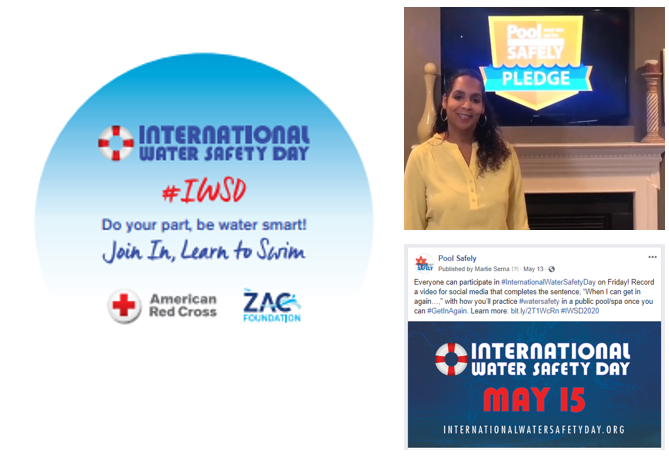 Summertime activities are looking different this year, and the annual International Water Safety Day (IWSD) May 15 was no exception. Pool Safely joined global water safety advocates by honoring IWSD in a virtual celebration. In addition to promoting IWSD on campaign social media channels leading up to May 15, and hosting a day-of  Web pop-up on PoolSafely.gov, we participated in IWSD's #GetInAgain social media video challenge. This challenge involved producing our own video, and participating with many collaborators, including the American Red Cross, Diversity in Aquatics, the ZAC Foundation, and others–in sharing what they plan to do once stay-at-home restrictions lift and aquatic facilities reopen and they can get back into the water safely.
Pool Safely's #GetInAgain challenge video invites you to take the #PoolSafelyPledge to commit to being safer in and around the water, especially at home. Check out the video on Pool Safely's Facebook page, here, and take the Pledge by clicking here.
Welcome New Pool Safely Community Members
Pool Safely recently welcomed three new organizations as community collaborators. We look forward to working with you as you share #watersafety messages throughout the summer and all year! 

Swimtastic Swim School
Claro Pool Systems, Inc.
Swim Doctors
Pool Safely Community Highlights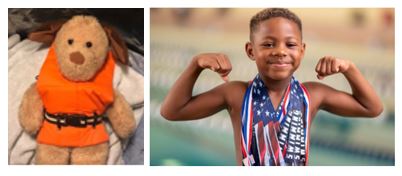 Although everyone has been spending more time indoors, Pool Safely collaborators have not stopped sharing #WaterSafety messages! From photos and videos, to blog posts and more, our collaborators have made the most of their time during the pandemic by sharing drowning-prevention messages. We could not be more thankful for these special efforts:
Abbey's Hope posted a cute reminder about the important role life jackets play in #WaterSafety, reminding others that if someone (man or teddy bear!) doesn't know how to swim, make sure they're wearing a life jacket (photo: left).
Thanks to all of you for your unwavering commitment to water safety, especially during this challenging time. We appreciate you staying connected and engaged with Pool Safely while learning about our latest updates. We encourage you to visit PoolSafely.gov to explore additional resources designed to help #stopdrowning 365 days a year.
Our hope is that you and your loved ones stay healthy and find moments for outdoor fun in the sun while also staying safer this summer.
Nikki Fleming
Pool Safely Campaign Leader
U.S. Consumer Product Safety Commission (CPSC)