The U.S. Consumer Product Safety Commission recently released its annual submersion and entrapment report, which found that there was no significant increase in the number of reported fatal drownings in swimming pools involving children younger than 5 since last year's report. The latest data shows that on average, there were 351 reported fatal child drownings in pools and spas in 2015 among children younger than 15. Seventy-six percent of those child drownings involved children younger than 5, the most vulnerable population.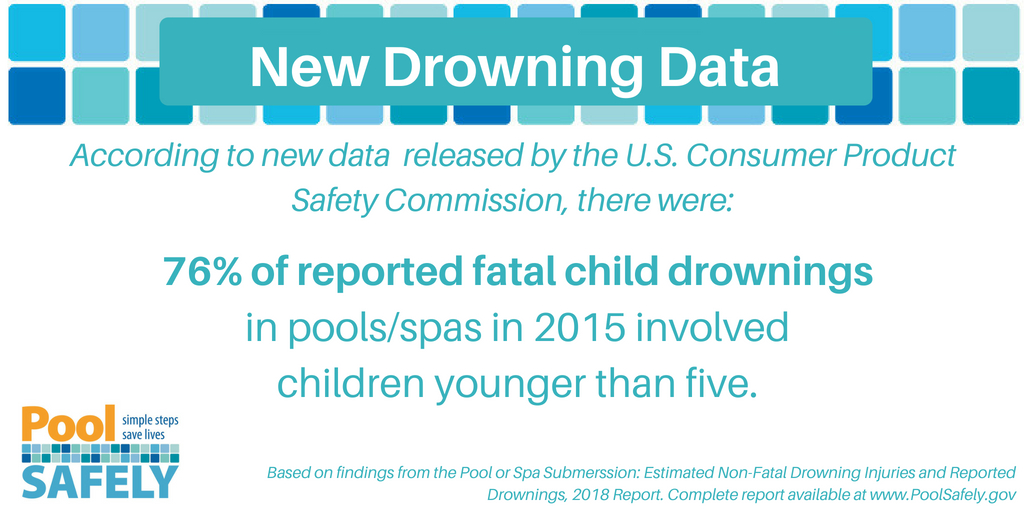 While it is positive news that reported child drownings have not increased, drowning remains the number one unintentional cause of death for children in the U.S. ages 1 to 4, and the second leading cause among children ages 5 to 14.
Other key findings in the report include:
Annually, 73 percent of the hospital emergency room-treated nonfatal drowning injuries from 2015 through 2017 involved children younger than five.
Male children younger than 15 had twice as many fatal drownings as female children of the same age.
From 2015 through 2017, an estimated average of 6,400 children younger than 15 years old were reportedly treated in hospital emergency rooms for nonfatal drowning injuries in pools or spas.
Between 2015 and 2017, residential locations made up 74 percent of reported fatal drowning incidents, and at least 45 percent of reported nonfatal drowning incidents for children younger than 15.
In addition, residential locations dominated reported incidents involving victims younger than five, with 54 percent of nonfatal drowning injuries among that age group from 2015 through 2017–and 85 percent for fatal drownings from 2013 through 2015–all occurring at a residence.
The majority of the estimated hospital emergency room-treated, nonfatal drowning injuries for 2015 through 2017, and the reported fatal drownings for 2013 through 2015, were associated with pools (versus spas).
CPSC also released a report on suction entrapment incidents in swimming pools, spas and whirlpool bathtubs. Key findings include:
Since the Virginia Graeme Baker Pool & Spa Safety went into effect in December 2008, there have been no reported fatalities involving a child being entrapped on a suction outlet cover in a public pool or spa.
Note: CPSC's report addresses nonfatal drownings for the period from 2015 through 2017 and fatal drownings for the period 2013 through 2015, reflecting a lag in the reporting of fatal drowning statistics.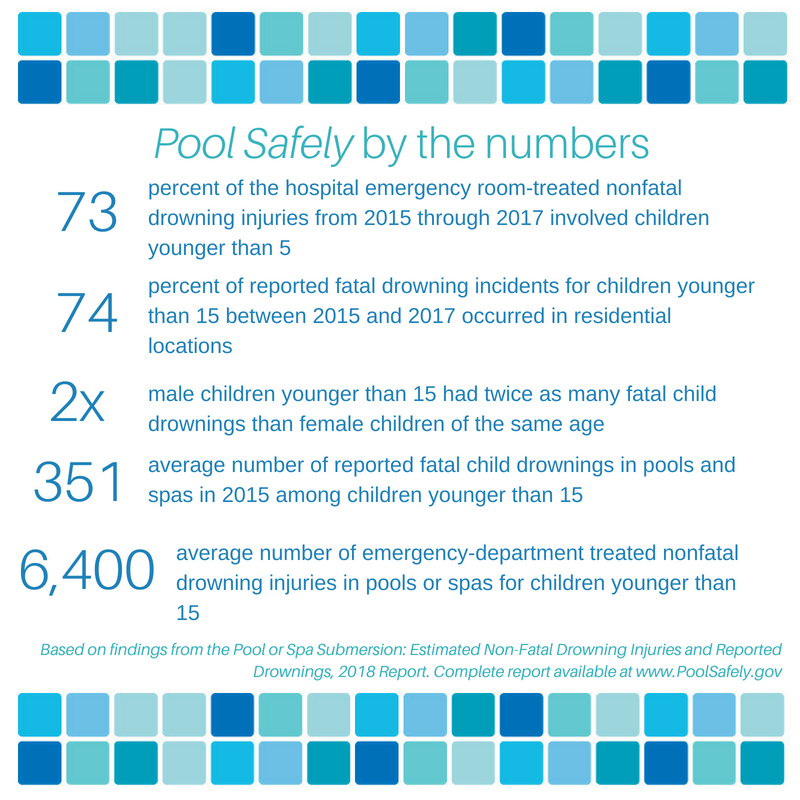 You can read the full report on PoolSafely.gov.
The Pool Safely campaign is continuing its efforts to encourage adults and child guardians to always stay aware whenever children are in or near the water, and to ensure there are multiple layers of protection to prevent child drownings. We look forward to working toward #notonemoredrowning this summer alongside our partners, communities and families nationwide. We encourage parents and families to review Pool Safely's simple steps to ensure a safer summer this year:
Never leave a child unattended in a pool or spa and always watch your children closely around all bodies of water.
Designate a Water Watcher to supervise children in the pool or spa. This person should not be reading, using a smart phone or be otherwise distracted.
Learn how to swim, and teach your child how to swim.
Learn how to perform CPR on children and adults.
Keep children away from pool drains, pipes and other openings to avoid entrapments.
Ensure any pool and spa you use has drain covers that comply with federal safety standards, and if you do not know, ask your pool service provider about safe drain covers and ask your public pool if their drains are "VGB compliant."
Install proper barriers, covers and alarms on and around your pool and spa.
Take the Pool Safely Pledge before spending time in or near the water.