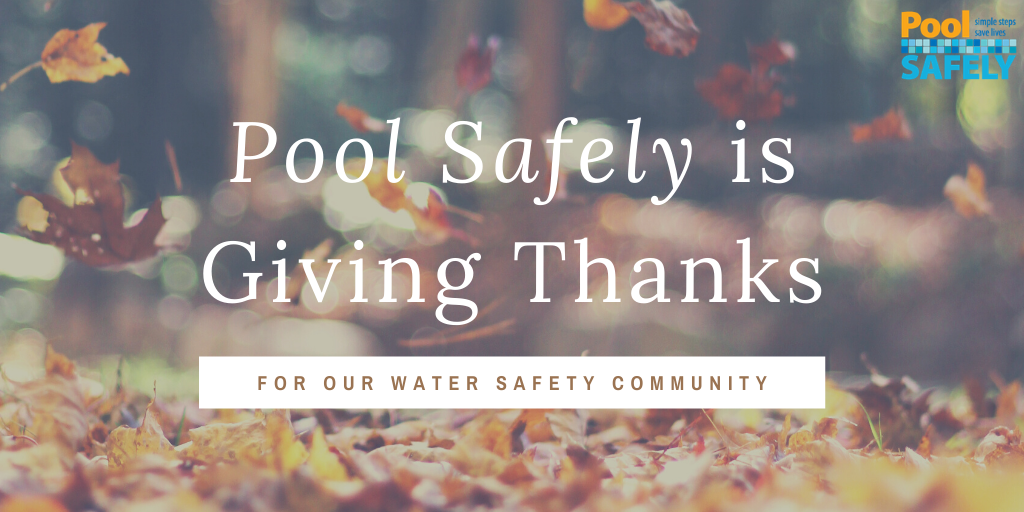 Pool Safely is thankful for its water safety collaborators who help to spread drowning prevention awareness across the country all year! We are proud to partner with a variety of organizations committed to water safety education, frequently finding creative ways to reach new audiences with lifesaving information and skills. Read on for highlights about some of the inspired ways our collaborators have worked toward #notonemoredrowning this year.
Taking the Pool Safely Pledge is a useful way to help kids and adults know how to be safer in and around water. Our collaborators have helped to collect more than 90,000 Pledges, including many in 2019.

American Red Cross staff took the Pledge as part of International Water Safety Day.

NCH Safe & Healthy Children's Coalition of Collier County (FL), Honeyman Pool & Spa, (Wichita, KS), and both the City of Lewisville Parks and Recreation (TX) and DuPage County Health Department (IL) had colleagues and team members take the Pledge.

The town of Babylon, NY, held a press conference and proclaimed the first week in July, "Pool Safely Week," encouraging people to take the Pledge and stay safer in and around water.

Drowning Prevention Coalition of Palm Beach County, FL provided water safety information and collected Pledges from beauty pageant contestants at a local event.
During the summer months, few things are more refreshing than a swim on a hot day. Pool Safely collaborators created opportunities for their community to learn how to swim and advocated for the importance of water safety:

The ZAC Foundation based in Greenwich, CT, hosted a number of ZAC Camps, which provide children with water safety information and in-water swimming instruction throughout the summer. Pool Safely had the opportunity to attend a camp at Andrew's Air Force Base in Maryland this summer and led children in taking the Pledge.

Stew Leonard III Children's Charities, located in Norwalk, CT, provided swimming lesson scholarships to more than 90 children this summer.

Paragon Pools' Float Like a Duck program partnered with the YMCA of Southern Nevada for a water safety event, where children took learn-to-float classes and learned about water safety.

Who can forget World Waterpark Association's World's Largest Swim Lesson? Pool Safely joined the City of Alexandria, VA, and Olympic Swimmer Maddy Crippen for a WLSL event in Virginia to celebrate 10 years of water safety education.
When our collaborators are not leading swimming lessons, many are helping to provide the resources to keep swimmers safer in and around the water:

Drennan's Dreams Foundation, based in Colorado, participated as a safety volunteer team for a swimming event, ensuring more than 300 swimmers remained safer during their swim.

Columbus, OH Public Health brought local summer camp students to visit a pool and had all campers take the Pledge.

The Houston Swim Club shared drowning statistics and water safety tips with parents and guardians in Texas.
In addition to swimming safety skills and information, Pool Safely collaborators educated their communities about the importance of learning CPR.

NCH Safe & Healthy Children's Coalition in Collier County, FL led a water safety workshop that included teaching lifesaving skills, such as CPR.

Central Valley CPR's (located in Tulare, CA) youngest CPR advocate demonstrated how to administer CPR properly, by performing this life-saving technique to the tune of a popular children's song.
Finally, because water safety does not stop at the water's edge, Pool Safely collaborators found creative ways to incorporate water safety reminders into a wide variety of family-friendly events:

The Michael Phelps Foundation aired the Pool Safely PSA to educate fans about drowning prevention after Michael Phelps threw out the first pitch at an Arizona Diamondbacks baseball game.

Drowning Prevention Coalition of Palm Beach County, FL presented water safety information and tips to more than 40 Police Athletic League youth in Florida.

Joshua Collingsworth Memorial Foundation's (Lincoln, NE) Josh the Otter and Splash Medics' Toby the Dolphin frequently traveled to elementary schools to educate children about how to be safer in and around water.

Team Kareem, a collaborator based on Coral Springs, FL, who is focused on providing free swimming lessons and related services to children and families, received a surprise visit from one of its scholarship recipients while spreading water safety education at a local farmer's market.
These individual efforts of our collaborators to increase water safety awareness contribute to a safer community for us all. Pool Safely is thankful for the hard work of each and every one of our collaborators and looks forward to working with you in the year to come!
If your organization currently is not an official Pool Safely collaborator, we encourage you to learn more and reach out to poolsafely@cpsc.gov. No matter the amount of time or the resources you have to spare, Pool Safely can work with you to mobilize your memberships and networks to spread the word about water safety awareness and drowning prevention in your community.