According to data from the U.S. Census Bureau, 2.6 million children are being raised by their grandparents, and 7.3 million grandparents have grandchildren under age 18 living with them. In addition, summer is often a popular time for families to reconnect and grandchildren to visit with their grandparents.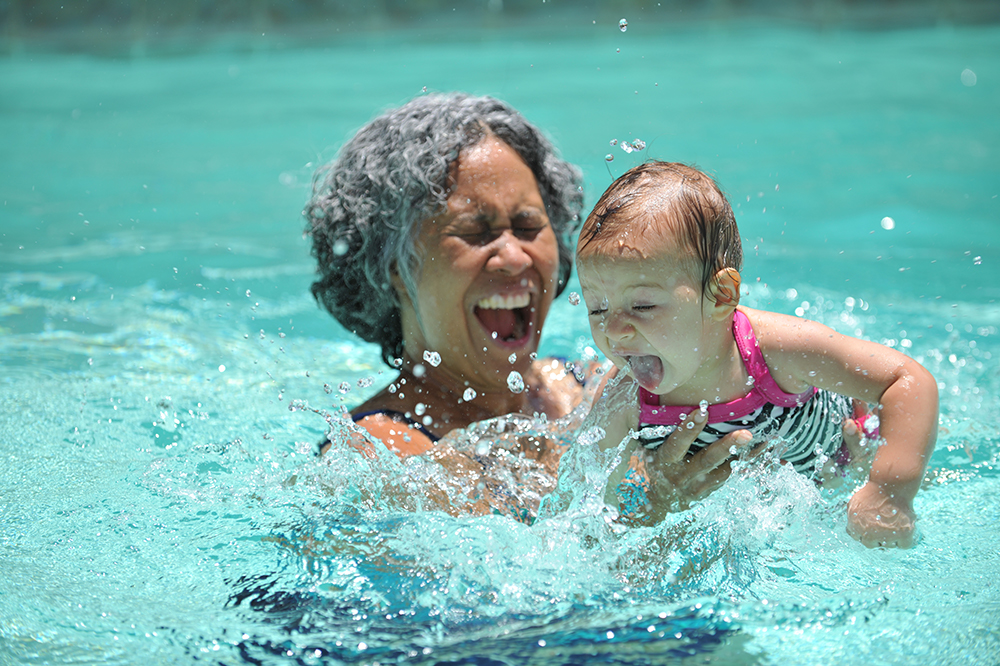 For many families, this time together means grandparents are enjoying play time in the pool. Whether you are raising grandkids, watching them for a day, or just spending time with them on a family vacation, it's important to be aware that drowning is the #1 cause of unintentional deaths among children ages 1-4, and that children can drown in as little as one inch of water.
This summer – if you are in a backyard pool, community pool or hotel pool – grandparents can prevent a drowning tragedy while swimming with grandkids. Check out the simple safety steps the Pool Safely campaign recommends all grandparents follow:
Always watch grandchildren in and around the water and designate an adult Water Watcher. The Water Watcher should be an adult who isn't reading a book, talking on the phone or otherwise distracted. We also recommend that this person be physically able to quickly jump into the pool and rescue a child in distress.
Help teach your grandkids how to swim or enroll them in swimming lessons. Organizations such as the American Red Cross, USA Swimming Foundation and YMCA offer classes in hundreds of communities across the country for a small fee or for free.
Teach your grandkids to stay away from drains in the pool and spa. Drains and filter openings can create powerful suction but are appealing to curious children.
Make sure your pool, or the pool you are visiting with your grandkids, has layers of protection: a four-sided fence with a self-closing, self-latching gate, alarms and a proper cover.
Learn CPR and know how to perform it on children. CPR has changed since you learned it as a parent! Take a course through the American Red Cross or your local parks and recreation department and make sure to keep your skills updated. Bystander CPR is critically important following a drowning incident.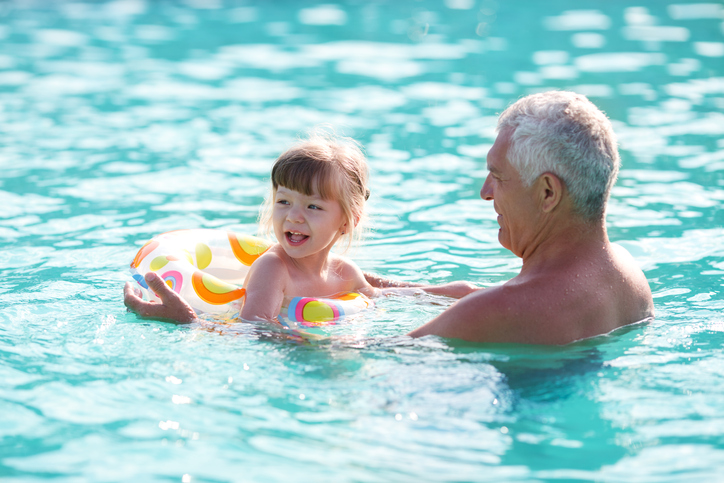 Remember: You don't have to have your own pool to be aware of and follow these steps. These same steps also apply when babysitting at your children's houses.
To show your commitment to practicing water safety, join the more than 60,000 others – including Olympic champions Michael Phelps and Katie Ledecky – who have taken the Pool Safely Pledge. This online call-to-action is a reminder to stay safer in around the water, especially when your grandkids are involved. There's even a kid's version of the Pledge, so it can be a fun and educational activity to do with your grandkids!
To stay up-to-date on water safety news and activities, sign up for our monthly newsletter.