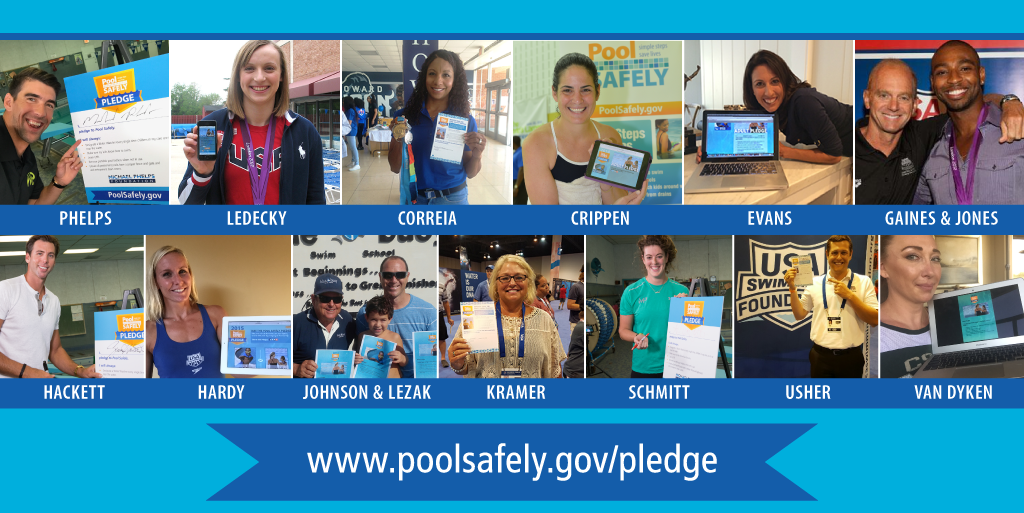 Mark your calendar; the 4th annual Pool Safely Pledge Week is scheduled for July 17 – 23!
If you're new to the water safety community, Pool Safely Pledge Week is an entire week dedicated to reminding all adults and children to take the Pool Safely Pledge and adopt simple safety steps to stay safer in and around pools and spas every day.
This year, Pool Safely hopes to secure more than 500 Pledges throughout the week – will you help?
By taking the Pool Safely Pledge, you'll join more than 50,000 others including the world's greatest Olympian, Michael Phelps, and 13 other Olympians such as Katie Ledecky, Allison Schmitt, Janet Evans, Rowdy Gaines, and more! 
How do you get involved in Pledge Week 2017?
Get involved by conducting one or more of the following activities during the week of July 17-23:
Take and share the Pool Safely Pledge!
The Pledge is available in two versions, one for kids and one for adults. You can find a link to the English Pledge here and a link to the Spanish Pledge here.
Participate in the Twitter takeover
Each day during Pledge Week, Pool Safely will feature a different partner who will be tweeting from the Pool Safely Twitter handle. Follow along on Twitter to respond and retweet.
Use the hashtags #PSPledgeWeek and #TakethePledge
Follow @poolsafely on Twitter, retweet the campaign's water safety messages, and use the hashtags when posting on social media about your pool and spa safety efforts during that week. Download our Pledge Week Toolkit for some sample social media posts and images.
Take a Pledge Week Safety Selfie
Don't forget to share it on social media and use hashtag #SafetySelfie! Don't know how to take a Safety Selfie? Check out the Safety Selfie series on the blog for examples and instructions.  Your Safety Selfie may just get featured on the blog, Twitter, or on our Flickr page, too!

Host an Event or Activity
In addition to promoting the Pledge online, you are also welcome to host an event or activity (this could be something you already have planned) to share water safety information, including asking adults and children to sign the Pool Safely Pledge.
Order Free Pledge Cards & Stickers
In addition to taking the Pledge online, you can also order hard copy Pledge cards and "I Took the Pledge" stickers (in English and Spanish) to give people after they have signed the Pledge.
If you have any questions on how to participate in the 2017 Pledge Week, or want to let us know of your Pledge Week plans, please email poolsafely@cpsc.gov.
Happy Pledging!