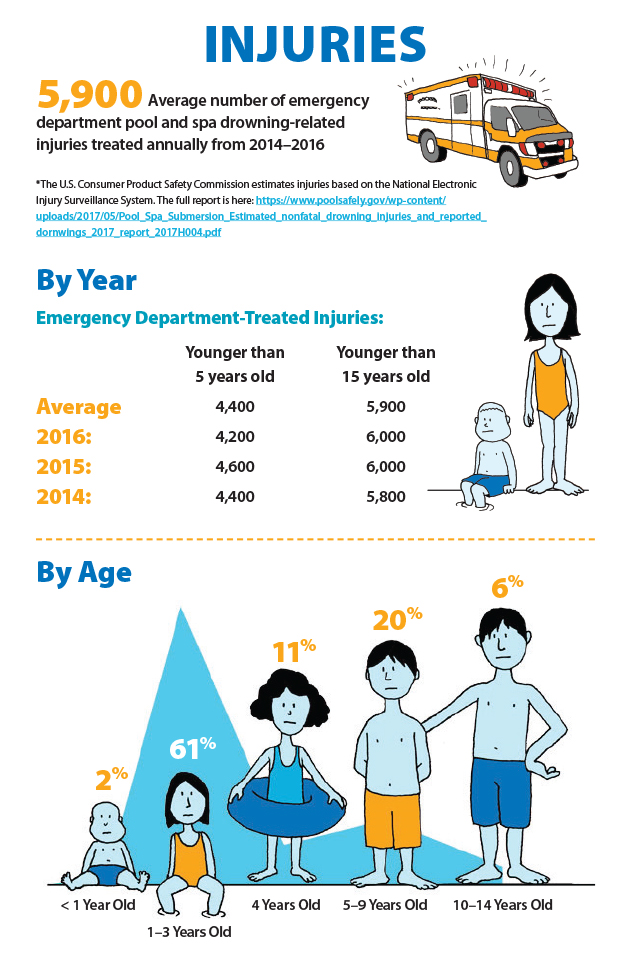 For 2014 through 2016, an estimated annual average of 5,900 children younger than 15 years of age were treated in U.S. hospital emergency departments (EDs) for nonfatal injuries associated with pool or spa submersions. The majority of these incidents involve children younger than age 5.
On average, more than 4,000 children under the age of 5 annually require emergency department treatment for pool- and spa-related nonfatal injuries. The majority of these children are between the ages of 1 and 3.
Fortunately, there are steps that can be taken to protect children from drowning incidents. By understanding and sharing the Simple Safety Steps That Save Lives and taking the Pool Safely Pledge, parents and caregivers can prevent drowning-related injuries.
*Data derived from the CPSC Submersion Report provides estimates and averages for drowning injuries and deaths. The report estimates pool and spa deaths involving children younger than 15 years of age between 2012 and 2014; for injuries for the same group, annual estimates are derived from years 2014 to 2016.