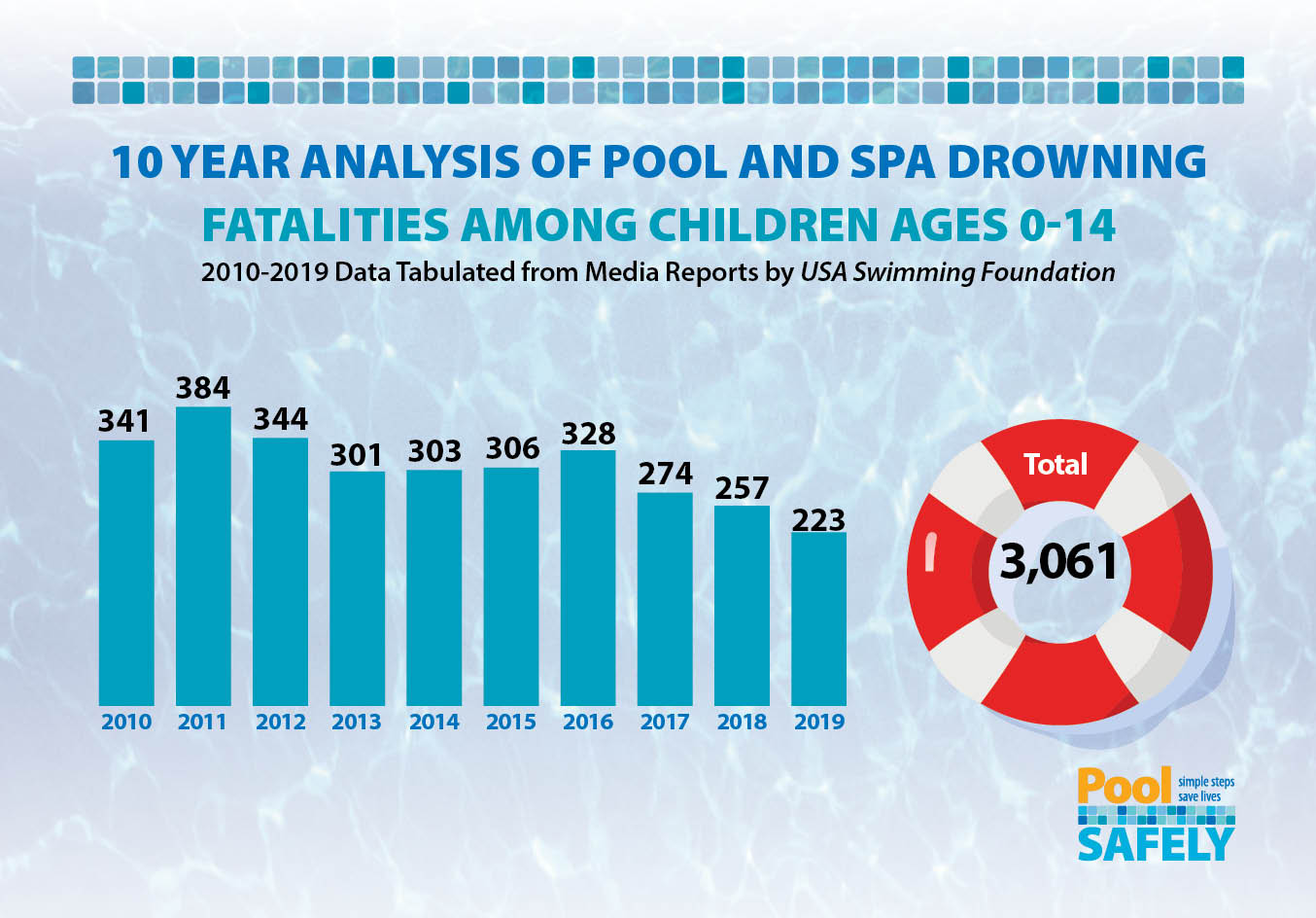 CPSC launched the Pool Safely campaign 10 years ago! Since then, many family foundations and organizations have joined CPSC and have become the drowning prevention community's most fierce advocates and champions. The decade has passed quickly and we have learned more about this public health crisis.
Thanks to the continuous efforts of the USA Swimming Foundation, we have 10 years of data on media-reported, fatal child drownings, which Pool Safely reviews for fatal child pool and spa drownings.
According to USA Swimming Foundation data, there have been at least 3,061 media-reported, fatal child drownings among children younger than 15 in pools and spas nationwide from 2010 through 2019.
During that time, 2011 was the deadliest year on record, with 384 media-reported, fatal child drownings in pools and spas, while 2019 had the least, with 223 drownings. The year 2019 also marked the second consecutive year USA Swimming Foundation data showed a decrease in child pool/spa drowning incidents.
Although drownings still occur, the data offer some good news. Media-reported, fatal child drownings in pools and spas decreased by 35 percent in 2019, compared to 2010.
Not surprisingly, the top five states with the highest number of reported fatalities in pools and spas from 2010 to 2019 were: Florida (458), Texas (347), California (331), Arizona (227), and Ohio (112).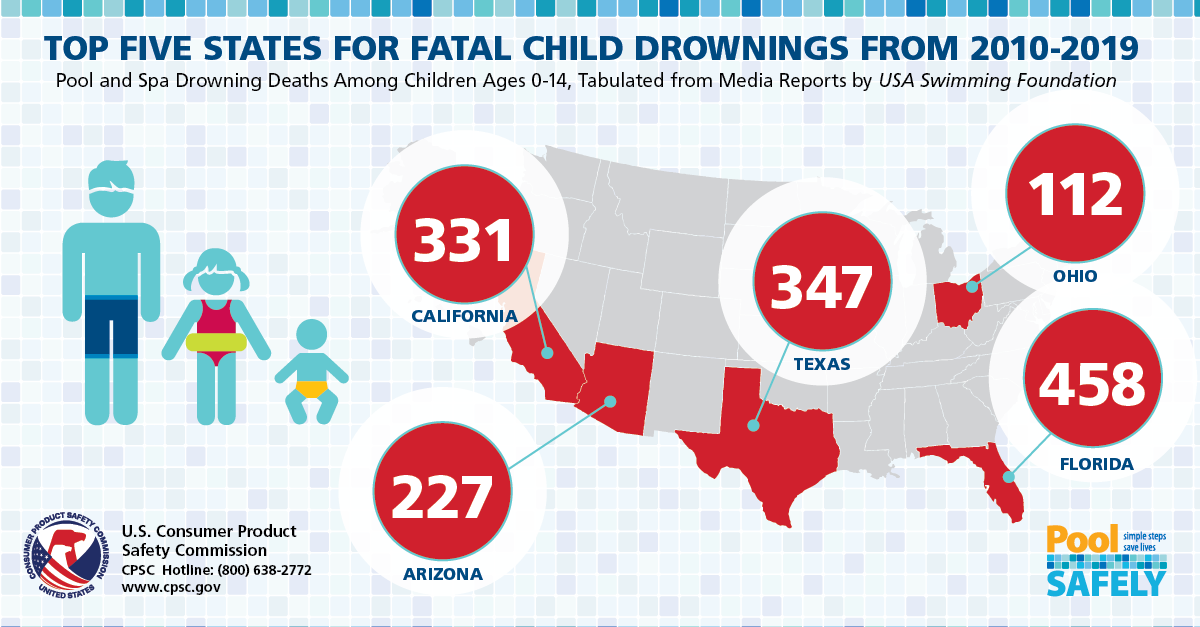 A Look at Florida
Although Florida had the most media-reported, fatal drownings from the past 10 years, the state has also experienced a 55 percent reduction in child drownings in 2019, compared to 2010. Additionally, 2019 marks the first year that Florida did not report the most fatal child pool/spa drownings of any state over the 10-year span.
Age and Location of Incidents
The large majority (82 percent) of reported child drownings take place at residential locations, specifically home pools. CPSC reminds homeowners with pools or spas about the importance of installing layers of protection, such as fences with self-closing, self-latching gates, door alarms, pool alarms and pool covers. If your pool is above ground, remove ladders when they are not in use. Additionally, regardless of swimming ability, children and adults should never swim alone, and there should always be a designated  Water Watcher when kids are in or around the water.
Children ages 1-4 are among the most susceptible to drowning incidents. USA Swimming Foundation data underscore this point, because 66 percent of all pool/spa child fatalities from the past decade involved this age. Toddlers and young children have a natural curiosity and desire to explore, which puts them at-risk and underscores the need to install proper layers of protection.
Even though fatal child drownings remain a public health crisis, the data are clear. The tireless efforts of CPSC and the drowning-prevention community are helping to reduce the rate of child fatalities. By working together, we can ensure there is #notonemoredrowning.