Pool Safely January/February Newsletter: Share the love of swimming in 2020!
February 25, 2020

Dear Pool and Spa Safety Community,
As we settle into 2020, we hope the New Year has been moving along swimmingly! It has been wonderful to see many smiling faces from our Pool Safely community members lately. Your joy serves as a reminder that passing on a love for swimming, which includes #WaterSafety awareness, is always important. As many of you know, if a parent or care giver does not know how to swim, there is only a thirteen percent chance that a child in that household will learn how to swim. Encouraging family members, friends, and neighbors to participate in swimming lessons is crucial to not only save lives, but to build confidence and inspire a healthy lifestyle too.
Read on to learn more about the latest Pool Safely campaign updates!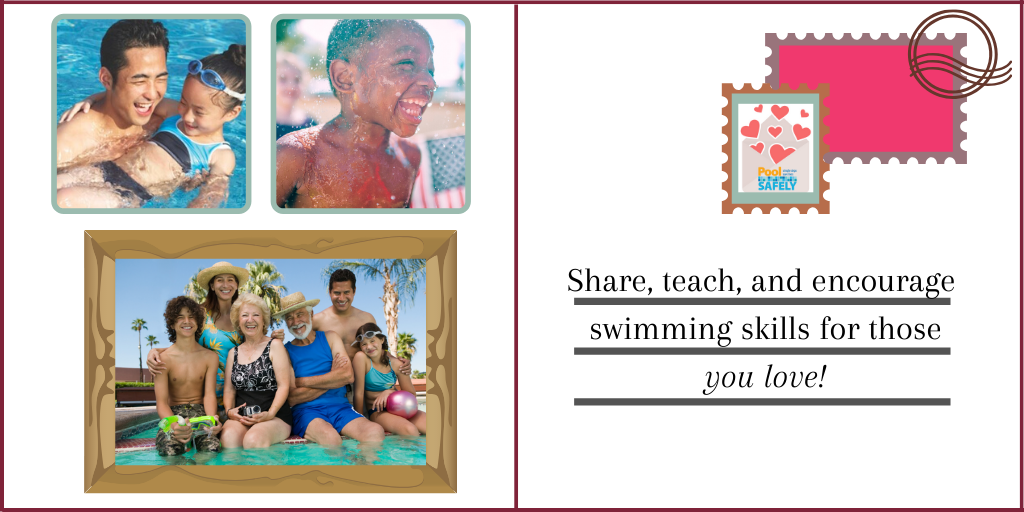 VGBA Pool Safely Grant
On Feb. 25, CPSC announced a 90-day solicitation seeking applications for a special Pool Safely Grant Program (PSGP) offered to state and local governments. CPSC will award up to $2 million in two-year grants to assist jurisdictions in reducing deaths and injuries from drowning and drain entrapment incidents in pools and spas. The Pool Safely grant program is a part of CPSC's national campaign to make drowning and drain entrapment prevention a critical public safety priority.
Prospective applicants are encouraged to review the solicitation on Grants.gov, under grant opportunity CPSC-20-001. Applications will be accepted through May 14, 2020.
To learn more about the Pool Safely grant and how to apply, please visit PoolSafely.gov.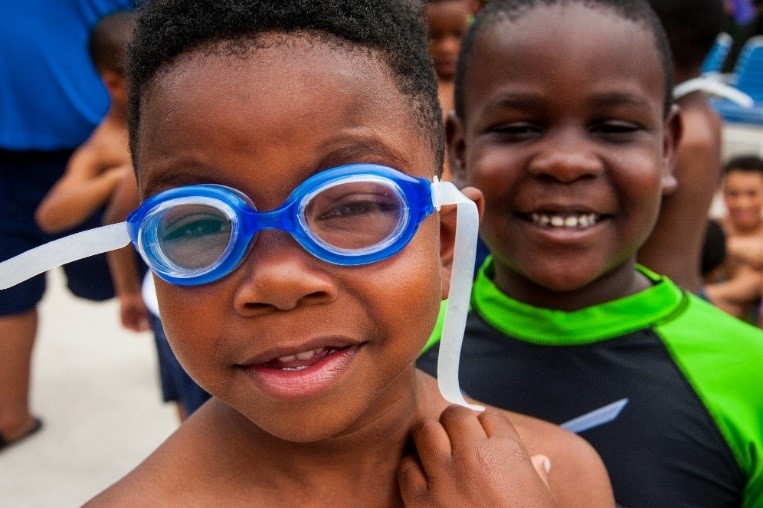 Black History Month Spotlight: Overcoming Disparities in Swim Ability
February as Black History Month presents an important reminder to acknowledge the water safety challenges that minority communities face. Data from our longtime collaborator, the USA Swimming Foundation, shows 64 percent of African-American children – and also 45 percent of Hispanic children – possess poor swimming ability, compared to 40 percent of Caucasian children. This puts minority children at a greater risk of drowning. Many factors contribute to this disparity, including the swimming ability of a child's parents, which may affect the likelihood that a child will learn how to swim.
Fear can also play a role in whether children and families have adequate water safety skills, with a clear connection between fear of drowning and low swimming ability. Children who are afraid of drowning are 67 percent more likely to have no/low swimming ability, and African American children and parents are three times more fearful of drowning than Caucasians.
The water safety community, including the Pool Safely campaign, has taken important steps toward addressing this safety issue. Check out these resources on poolsafely.gov to learn more:
New on the Blog
Ringing in a brand-new decade is a unique and bittersweet milestone – it is a time to both reflect on years past and resolve to do better in the future. In the Pool Safely January Blog Post, we reviewed 2019 statistics on drowning incidents in pools and spas for children younger than fifteen years old. Although the data presented an overall decrease in these incidents, we must strive to further reduce these incidents in 2020 and beyond to prevent #notonemoredrowning. Check out the full blog post linked above!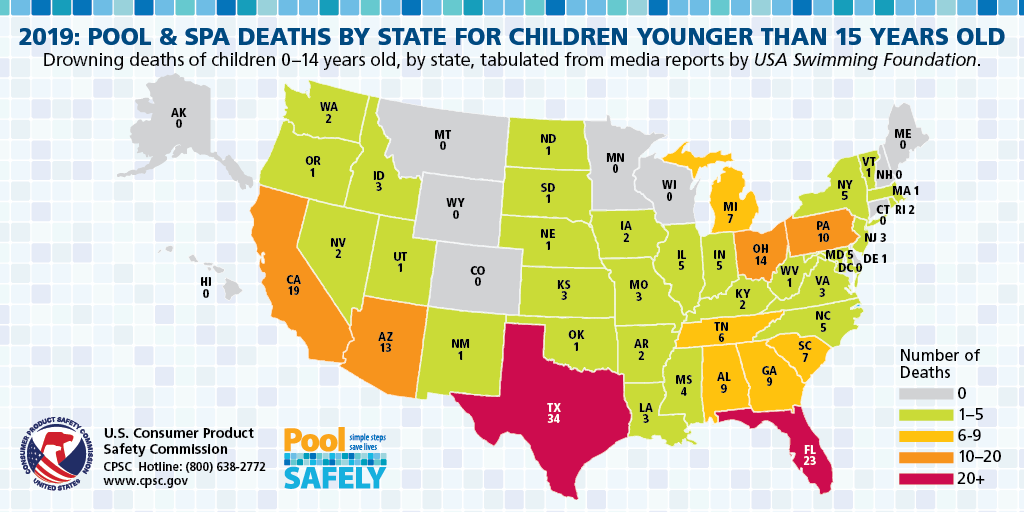 Pool Safely Community Highlights

It has been a busy start to 2020 for members of the Pool Safely community! From safety fairs to sporting events and everything in between, our collaborators have found unique ways to share the Pledge and spread water safety messages:
22 adults at Swim Float Survive, a non-profit founded in part by Pool Safely community members, Texas Swim Academy and Swim Kids of Georgia, recently took the Pledge in verbal unison. (photo: top left)
DuPage County Health Department obtained 50 signed paper Pool Safely Pledges (photo: top middle) and The Drowning Prevention Coalition of Palm Beach County's mascot, Buddy the Seahorse participated in the South Florida Fair, sharing the importance of drowning prevention (photo: bottom left). Do you have signed paper Pledges you need to return to Pool Safely? Email PoolSafely@CPSC.gov to find out how.
Joshua Collingsworth Memorial Foundation's, Josh the Otter, attended a basketball game where he shared water safety messages with the community. (photo: bottom middle)
Safe and Healthy Children of Collier County participated in a community safety event and gained two very enthusiastic water safety advocates. (photo: far right)
Thank you to each of you who work to advocate in your communities on behalf of #drowningprevention and #WaterSafety. Your efforts reach far and wide and have lasting impact. Here at CPSC, our hope for 2020 is that as many children as possible regardless of background, location, and ability will have the chance to discover swimming in a knowledgeable, inclusive, and fun environment.
We encourage you to visit PoolSafely.gov to explore resources to assist you in providing those opportunities.
Nikki Fleming
Pool Safely Campaign Leader
U.S. Consumer Product Safety Commission (CPSC)