Pool Safely Quarterly Newsletter: New Data, New Materials Process, Community Highlights, & More!
July 23, 2019

Dear Pool and Spa Safety Community,
 Summer swim season is in full swing, and I am thrilled to see so many members of the Pool Safely community diligently working to spread the word about water safety across the country.
As you know, drowning prevention awareness is so important, especially considering the new data released in May by the U.S. Consumer Product Safety Commission (CPSC). The new report suggests that fatal child drownings are on the rise. On average, there are 363 pool-or-spa related fatal child drownings per year – that is nearly one drowning every single day. Residential locations make up 72 percent of reported fatal drowning incidents. Additionally, CPSC reported there are an estimated 6,600 emergency department treated, nonfatal child pool or spa drowning injuries each year.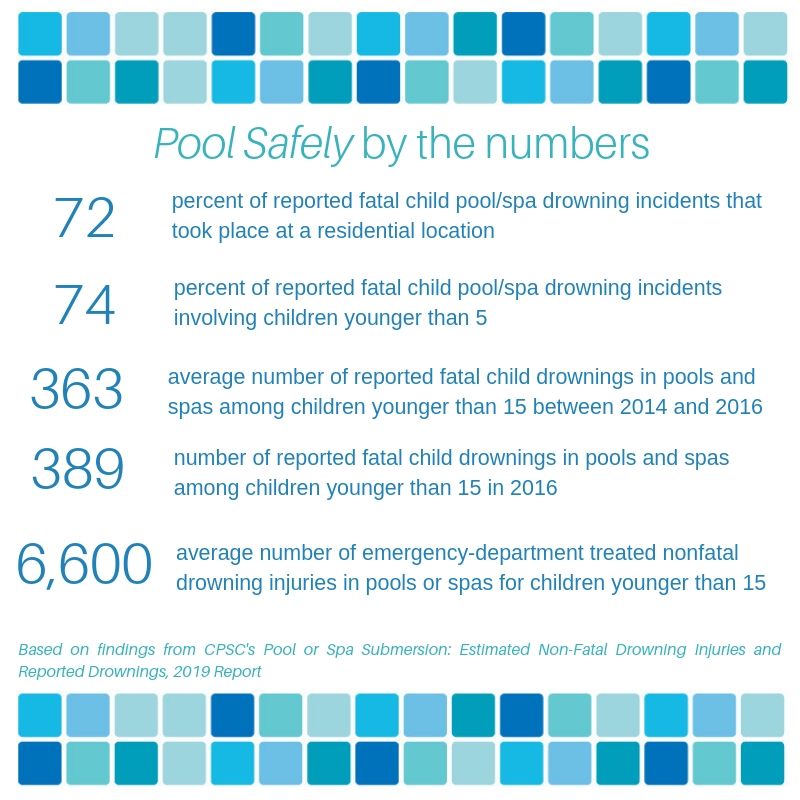 In response to these rising numbers, CPSC's Acting Chairman Ann Marie Buerkle is urging families to double down on their commitment to water safety by taking the Pool Safely Pledge and by following Pool Safely's simple steps to keep children safer in and around the water this summer and beyond.
Visit the Pool Safely resource library to view the full CPSC report and check out the latest infographics in the Pool Safely Press Kit.
Pool Safely Celebrates the 10th Annual World's Largest Swimming Lesson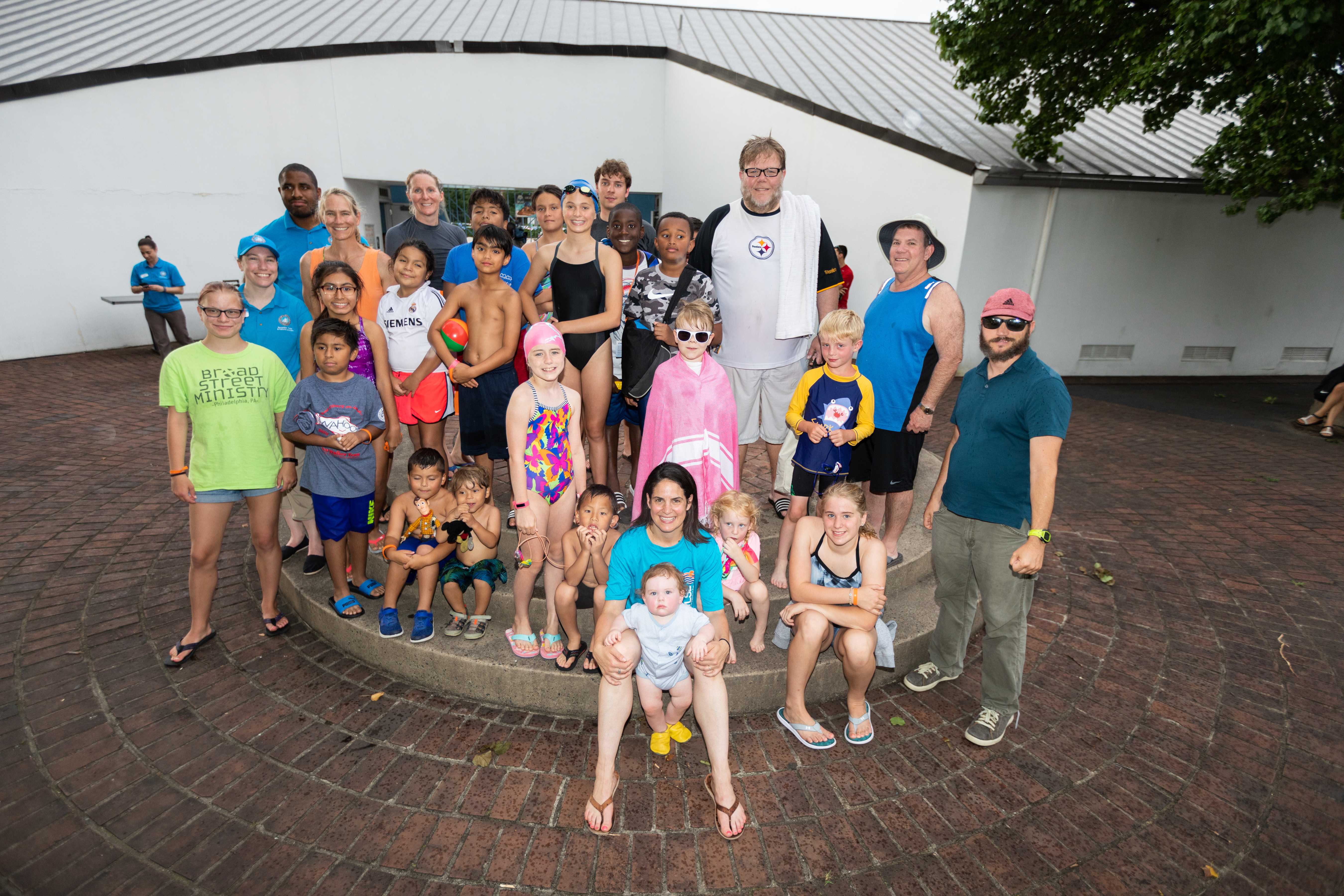 Please join me in congratulating the World Waterpark Association on the tenth anniversary of its World's Largest Swimming Lesson (WLSL) this year! Throughout the past decade, WLSL has generated more than one billion media impressions and provided a swimming lesson to 278,000 children and adults.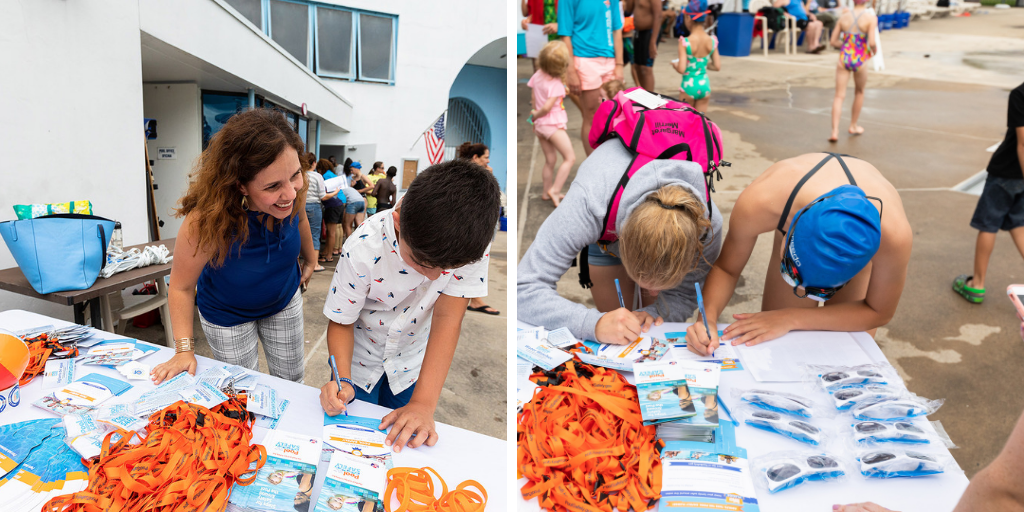 On June 20, Pool Safely joined the City of Alexandria, VA for a World's Largest Swimming Lesson event at Alexandria's Old Town Pool. While thunderstorms prevented the in-water portion of the swimming lesson from taking place, Olympic swimmer Maddy Crippen joined CPSC Spanish spokesperson Carla Coolman and me to review water safety tips with the children and to lead them in taking the Pool Safely Pledge.
 Pool Safely Community Highlights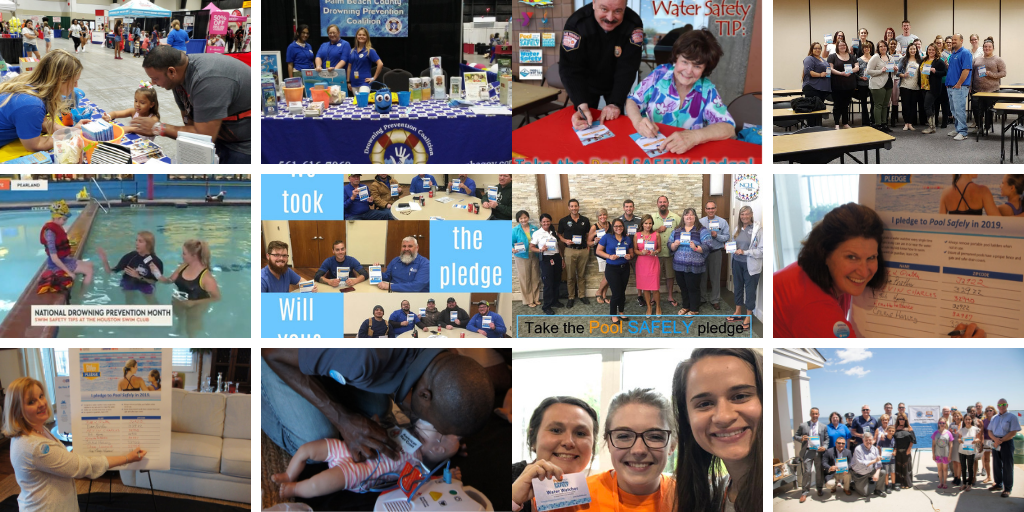 Spring and summer have been full of activity for members of the Pool Safely community. From participating in educational safety fairs and sharing safety tips with local media, to participating in #PledgeItOn, there's no doubt about it – the Pool Safely community never slows down its work toward #notonemoredrowning:
The Drowning Prevention Coalition of Palm Beach County participated in a number of water safety initiatives which taught kids and parents how to be safer in and around water (Photos: Top row, far left and top row, second from left).
Paragon Pools' Float Like a Duck program included taking the Pledge as one of its safety tips on Instagram (Photo: Top row, second from right).
Honeyman Pool & Spa participated in #PledgeItOn by visiting with a local HOA and having them take the Pledge (Photo: Top row, far right).
In honor of May as National Drowning Prevention Month, the Houston Swim Club was interviewed on Houston's CW 39 News, where they discussed drowning statistics in Texas and highlighted water safety tips (Photo: Middle row, far left).
Lewisville Parks and Recreation participated in #PledgeItOn by having its team take the Pledge (Photo: middle row, second from left).
The NCH Safe & Healthy Children's Coalition in Collier County participated in #PledgeItOn with members of its team (Photo: Middle row, second from right).
On May 15, the Red Cross hosted International Water Safety Day (IWSD). This annual event aims to spread drowning prevention awareness and water safety education, including CPR training (Photos: Middle row, far right; bottom row, far left; and bottom row, second from left)
Our Water Watcher tags are popular! Like many members of the Pool Safely community, Wave DDS distributed them in preparation for its summer activities. (Photo: Bottom row, second from right)
The town of Babylon, New York, declared July 1-7 as "Pool Safely Week" and as a result, had several local legislators take the Pledge (Photo: Bottom row, far right).
Welcome New Pool Safely Community Members!
I am excited to welcome 5 organizations as new Pool Safely community collaborators:
Anchor Industries
Miss Tristan Foundation
New Castle County Government
The Shawn D. Delifus Foundation
Town of Babylon, NY
New #OntheBlog!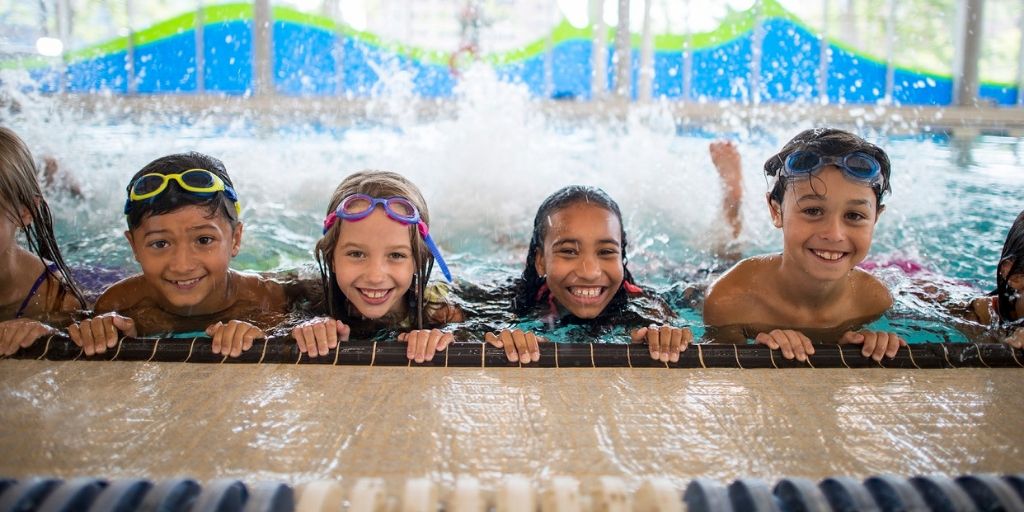 The Pool Safely blog shares periodic drowning prevention tips and campaign updates. Check out several of our most recent posts, and share them with your networks:
Sending your child to spend time at a friend's home? Pool Safely shared five water safety questions you should ask before any playdate.
Pool Safely connected with filmmaker Ed Accura about racial disparities in swim ability and his new film, "A Film Called Blacks Kids Can't Swim.
Is there anything better than spending the sizzling dog days of summer splashing in a pool? Pool Safely shared six essential pool safety tips to help you splash into summer.
Eager to read beyond the blog about Pool Safely and the nationwide work we do? Head to our Twitter page or find us on Facebook via @PoolSafely for daily updates!
90,000 Pledges and Counting!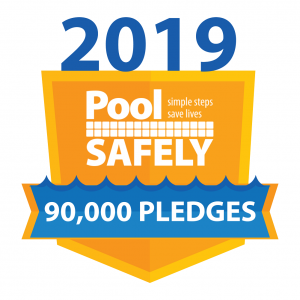 I am pleased to announce that Pool Safely has now collected more than 90,000 signed Pool Safely Pledges! I would like to extend a big thank you to everyone who helped us reach this remarkable milestone, especially the devoted members of the Pool Safely community. This would not have been possible without your help! I am looking forward to continuing the water safety momentum by securing even more signed Pledges during the remainder of the year. If you haven't yet taken the Pool Safely Pledge in 2019, I encourage you to do so here. Don't forget to #PledgeItOn and share it with your friends, colleagues and loved ones too!
New for the summer: 2019 Partner Toolkit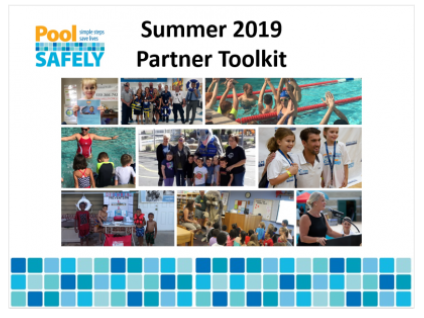 The Summer 2019 Partner Toolkit is now available! You can find it via both the Partners page of the website, as well as in the Materials Catalog. The toolkit includes drowning prevention messaging, the latest drowning data, sample Tweets and Facebook posts for you to use in both English and Spanish, images, and more! All members of the Pool Safely community are welcome to use these tips and posts in your own communications and marketing efforts.
New Process for Ordering Pool Safely Educational Materials!
The online process for ordering Pool Safely educational water safety materials has changed! You can still review the items you are interested in or would like to order via our website catalog, but to order online going forward, please click here. If you have any questions about this new system or an order you have previously placed, please contact poolsafely@cpsc.gov. We appreciate your ongoing, widespread use of the campaign's materials as related to your drowning prevention efforts!
Thank you for your ongoing commitment to water safety and all that you do to #stopdrowning, especially during the busy summer swim season.
Nikki Fleming
Pool Safely Campaign Leader
U.S. Consumer Product Safety Commission (CPSC)