Pool Safely Quarterly Newsletter: New Water Safety Video with Actor Tia Mowry, Community Highlights, & More!
October 1, 2019
Dear Pool and Spa Safety Community,
As another summer winds down, I want to take a moment to thank you for your tireless work to raise awareness about water safety. From connecting families with swimming lessons to sharing safety tips at community fairs and camps, the Pool Safely network has blanketed the country with life-saving information this season. Heading into the fall and beyond, I look forward to continuing to work with all of you to remind families to #PoolSafely365 and practice water safety throughout the year
New Video: Actor Tia Mowry Urges Families to Pool Safely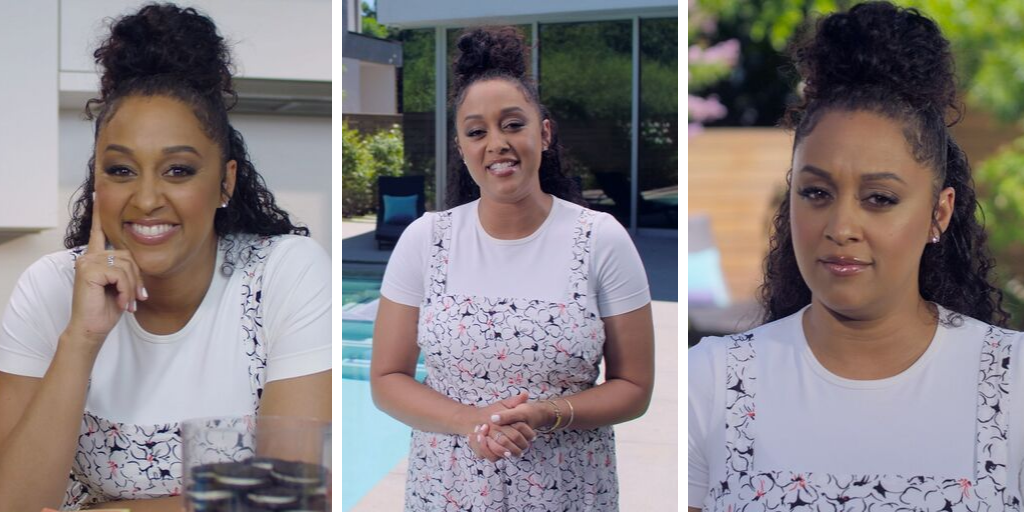 Pool Safely is thrilled to collaborate with celebrity Tia Mowry to get the word out about water safety! In a new video, Tia shares important Pool Safely tips while she prepares for a family pool party. I encourage you to watch the video, share it with your networks, and check out a behind-the-scenes look at the video's filming in our latest blog post. You can order your very own Water Watcher card like the one that Tia wears in the video, along with other free educational water safety materials, here.
Summer 2019 Drownings on the Rise: Seasonal Data from USA Swimming Foundation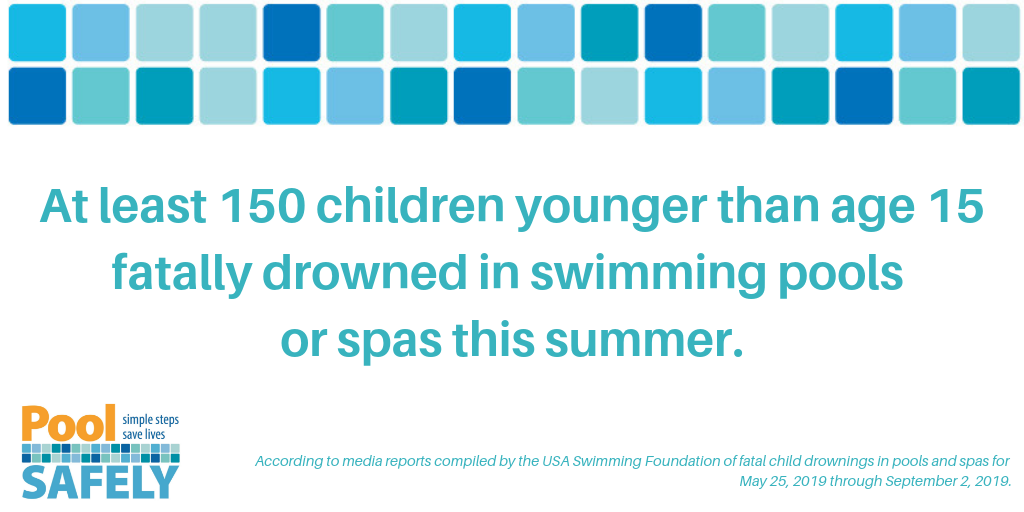 Data compiled by the USA Swimming Foundation and calculated by Pool Safely suggests that at least 150 children younger than 15-years-old fatally drowned in a pool or spa between Memorial Day and Labor Day 2019 (May 25, 2019 – Sept. 2, 2019). Sadly, this is an increase of two drownings compared to the same period in 2018. The states that experienced the highest number of fatal child drownings during summer 2019 are Texas (26), Ohio (11), Florida (10), California (10), Pennsylvania (8), Arizona (7) and Georgia (7). Pool Safely recently issued a press release to share this information along with water safety reminders for families.
CPSC Announces Pool Safely Grant Recipients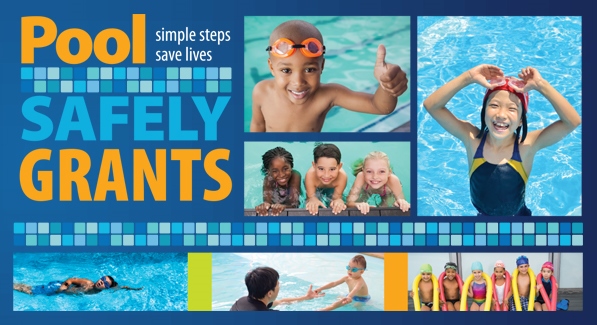 CPSC has awarded five state and local governments with a grant aimed at preventing pool and spa drownings, as well as drain entrapments. Awardees will receive Pool Safely Grant Program funds to aid with education, training, and enforcement of pool safety requirements that are intended to save lives and prevent serious injuries. Please join me in congratulating the awardees and read more in the announcement press release, here.
Check out New Game on the Pool Safely App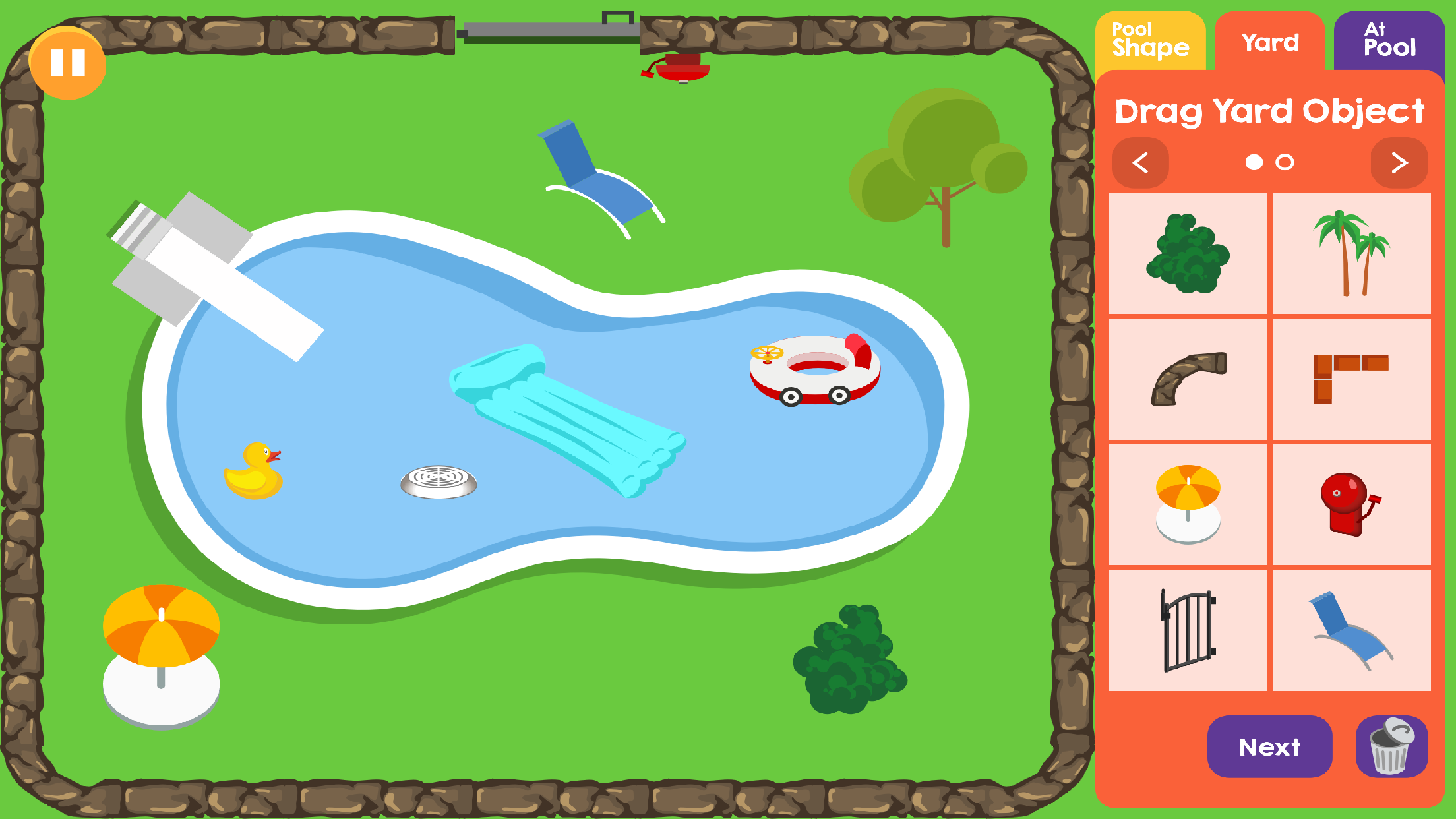 Following the success of the first three games from The Adventures of Splish and Splash app, we've created the next chapter: the build-your-own backyard pool game! Players start by choosing a pool shape and build the landscape using trees, umbrellas and lounge chairs. They can add other fun objects to the pool like slides, floats, fountains and beachballs. Players must include barrier walls, a gate, a pool drain cover and an alarm in each design as necessary safety features. Once complete, players can download their masterpiece and share it with friends! Update or download the Pool Safely app here and try the new game.
Pool Safely Community Highlights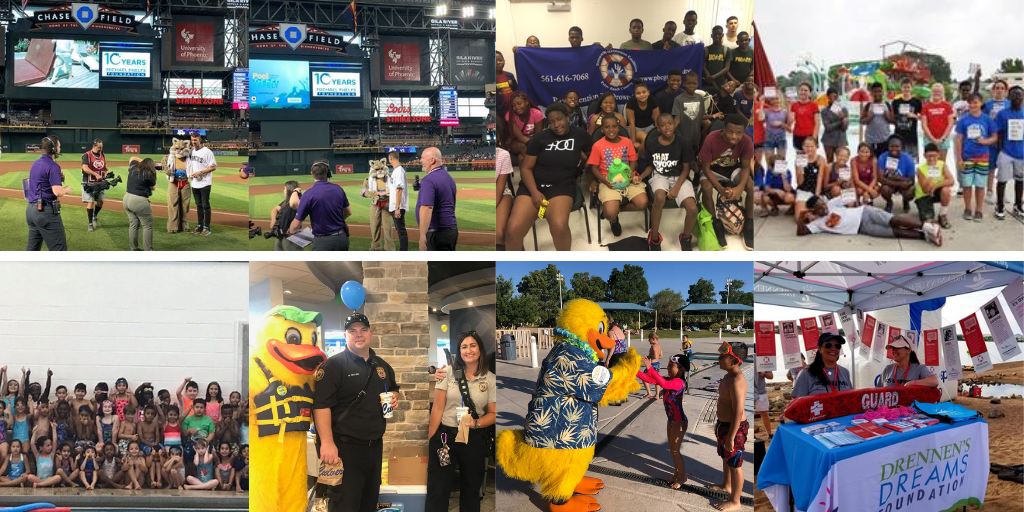 The Pool Safely community continues to spread the word about water safety in new and innovative ways. Below are just a few examples of how campaign collaborators are working to #stopdrowning across the country:
The Michael Phelps Foundation aired the Pool Safely PSA at an Arizona Diamondbacks baseball game to educate fans about drowning prevention after Michael Phelps threw out the first pitch (Photo: Top row, far left and top row, second from left).
The Drowning Prevention Coalition of Palm Beach County presented water safety information and tips to more than 40 Police Athletic League youth in Florida (Photo: Top row, second from right).
Columbus Public Health brought local summer camp students to visit a pool and had all campers take the Pool Safely Pledge (Photo: To row, far right).
Stew Leonard III Children's Charities provided swimming lesson scholarships to more than 90 children this summer (Photo: Bottom row, far left).
Safe & Healthy Children of Collier County partnered with the Kiwanis Club of Greater Collier to celebrate the great work of first responders and to share important water safety messages (Photo: Bottom row, second from left).
Float like a Duck partnered with the YMCA of Southern Nevada for a water safety event where children took learn-to-float classes and learned about water safety (Photo: Bottom row, second from right).
Drennen's Dreams Foundation partnered with Swim Across America to serve as a member of a safety team, ensuring that all swimmers, regardless of swim level, were kept safer in the water (Photo: Bottom row, far right).
Welcome New Pool Safely Community Members


Please join me in welcoming Peace 4 Peyton Water Safety Awareness as a new Pool Safely community collaborator. Founded in memory of Peyton Alec Zander Truett, a 4-year-old with autism who fatally drowned in 2013, Peace 4 Peyton aims to help other families avoid a drowning tragedy.
New #OntheBlog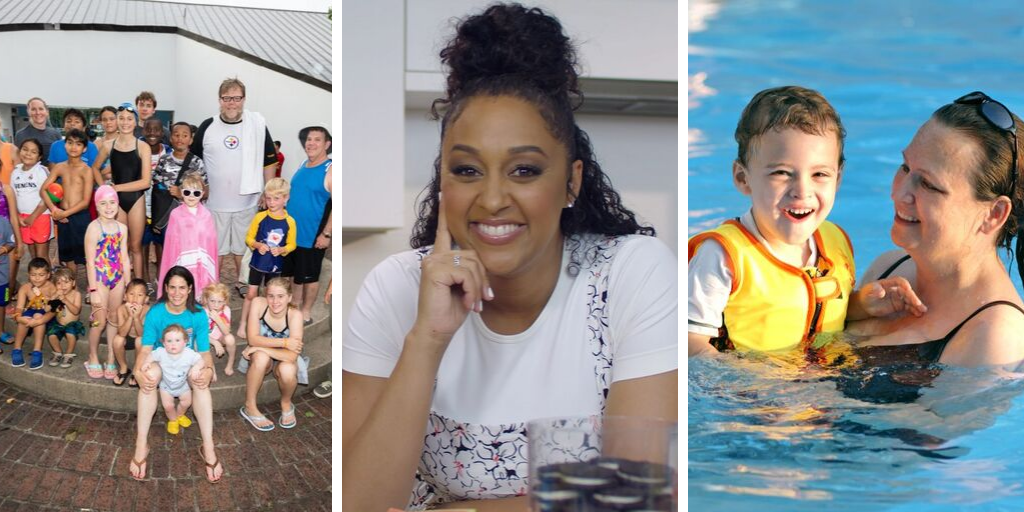 The Pool Safely blog shares regular water safety tips and campaign updates. Check out our most recent posts, and share them with your networks:
Pool Safely participated in the 10th annual World's Largest Swimming Lesson (WLSL) at an event with the City of Alexandria, VA and Olympic Swimmer Maddy Crippen. This blog post shares more details about our collaboration.
Pool Safely explored the extra water safety precautions required for families of children who face a heightened risk, such as children with special needs like autism, in this blog post.
Pool Safely went behind the scenes of the campaign's new water safety video starring Tia Mowry. Read more in this blog post.
Thank you again for your ongoing commitment to water safety and all that you do to #stopdrowning.
Nikki Fleming
Pool Safely Campaign Leader
U.S. Consumer Product Safety Commission (CPSC)