Pool Safely Quarterly Newsletter: #PledgeItOn Ahead of Swim Season!
May 1, 2019

Dear Pool and Spa Safety Community,
As temperatures rise across the country and summer swim season approaches, I am excited about the launch of our latest effort to spread the word about water safety and help keep kids safer in and around the water, #PledgeItOn! How does this campaign work? It's simple! We're challenging everyone to take the Pool Safely Pledge, share it on social media, and tag three friends to join you by asking them to take and share the Pledge too.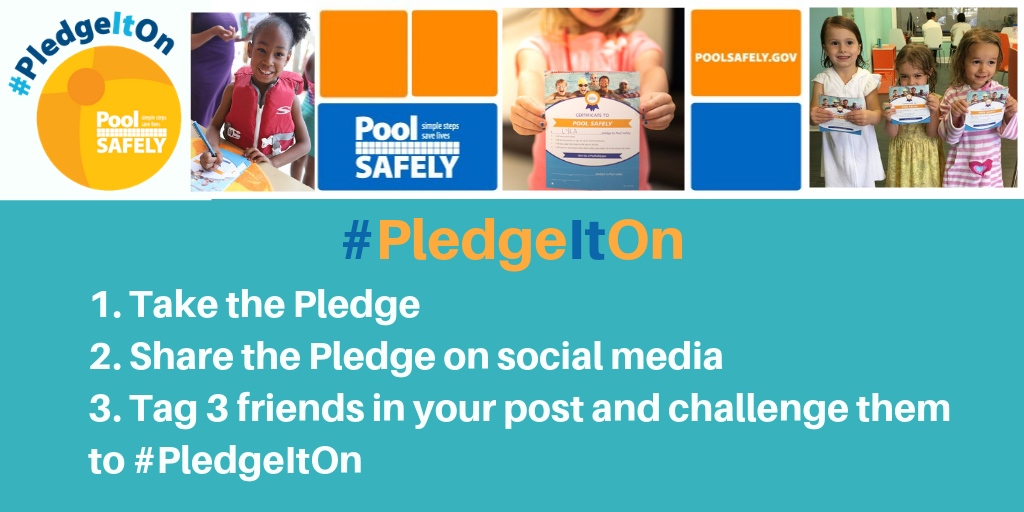 Our goal is to reach as many people as possible, so please join us in spreading the important message of drowning prevention by participating in #PledgeItOn. Also, be sure to keep an eye on the Pool Safely social media pages, as we'll be sharing content from partners and supporters who #PledgeItOn along with some fun animals who want everyone to be safer this summer.
Pool Safely on the Road: #NDPA2019


Last week, Pool Safely served as a proud sponsor of and attended the 18th annual National Drowning Prevention Alliance (NDPA) Educational Conference in New Orleans. We were excited to see many familiar and new faces there! CPSC Acting Chairman Ann Marie Buerkle shared important Pool Safely updates during her keynote address and highlighted the great work that the water safety community is doing to save more lives.
Our partnerships are the driving force behind the campaign, and in addition to her speech, the Acting Chairman met and heard from leading drowning prevention organizations including the executive committee of Families United to Prevent Drowning (photo, below). The Acting Chairman also officially launched the campaign's new #PledgeItOn campaign and announced the 2019 Pool Safely grant opportunity.
In addition to the Acting Chair's keynote, CPSC children's program area risk manager and mechanical engineer Susan Bathalon delivered a presentation on Swimming Pool Barrier Safety: data review, scenarios and solutions.
We enjoyed seeing many of you at one of the year's most important water safety events! Mark your calendars for next year: the NDPA conference travels to Fort Worth in April 2020.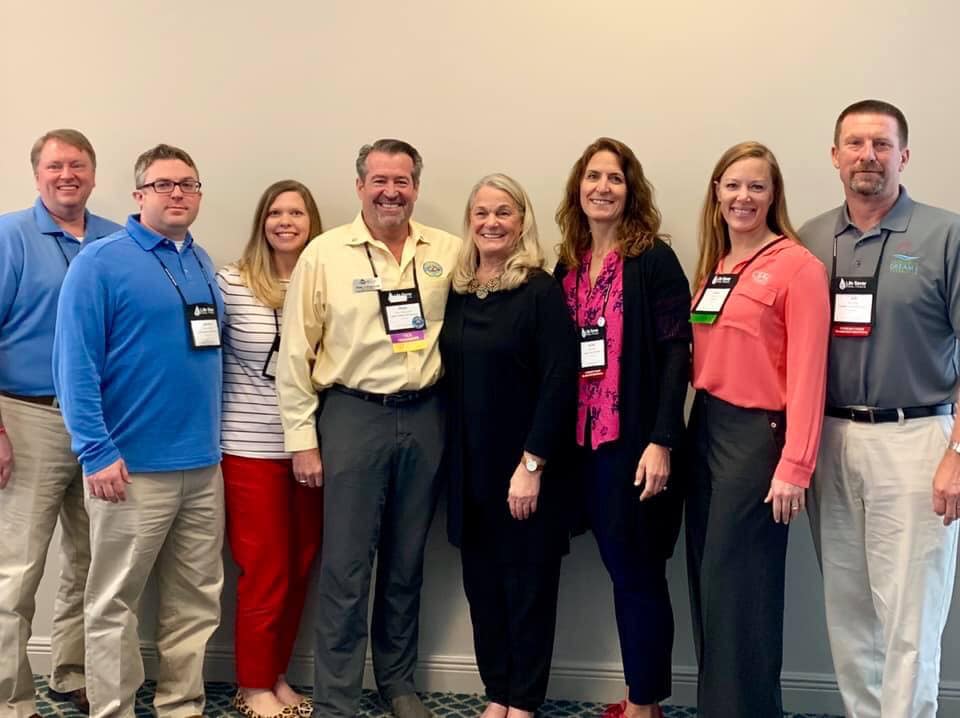 Partner Highlights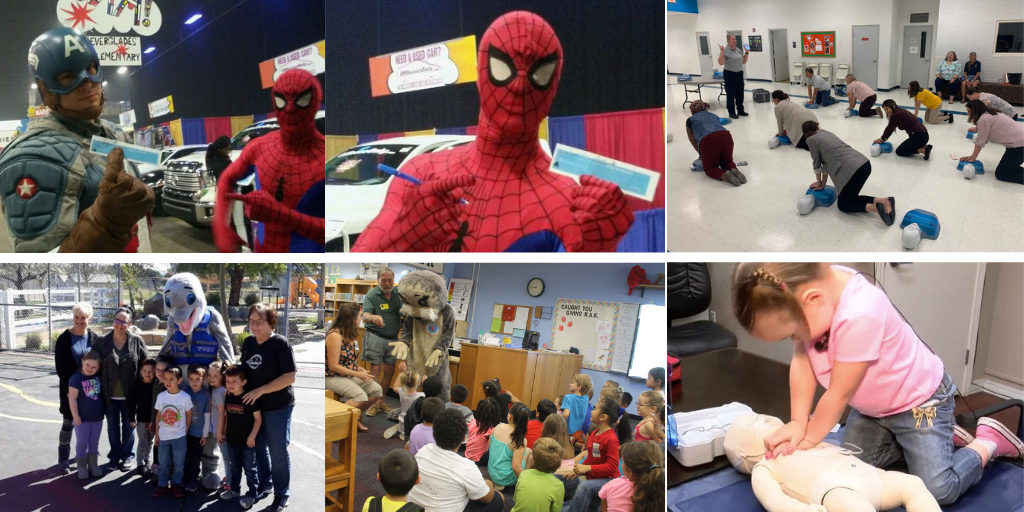 Pool Safely partners have remained busy spreading messages of water safety across the country in creative ways – from creating videos and drafting blog posts to visiting schools and participating in local events.
The Drowning Prevention Coalition of Palm Beach County collected 1,700 Pool Safely Pledges at the South Florida Fair this year – including from a few superheroes! (Photos: top left and top center)
Safe & Healthy Children's Coalition of Collier County led a water safety workshop, which included teaching CPR and emphasis on the importance of designating a Water Watcher. (Photo: top right).
Splash Medics' Toby the Dolphin and Joshua Collingsworth Memorial Foundation's Josh the Otter both know that you're never too young to learn how to stay safer in and around the water. Toby read to a local preschool class about water safety (Photo: bottom left) while Josh the Otter teamed up with the Merritt Island Breakfast Rotary Club to visit local kindergarteners (Photo: bottom center).
Through performing CPR to the tune of "Baby Shark," Central Valley CPR's youngest instructor demonstrated just how simple it is to learn this lifesaving skill (Photo: bottom right).
The City of Peoria won the Aquatics International Award for Best Community Outreach for the 2018 Honoring a Decade of Water Safety Event in collaboration with the Michael Phelps Foundation and Pool Safely.
Welcome New Pool Safely Partners!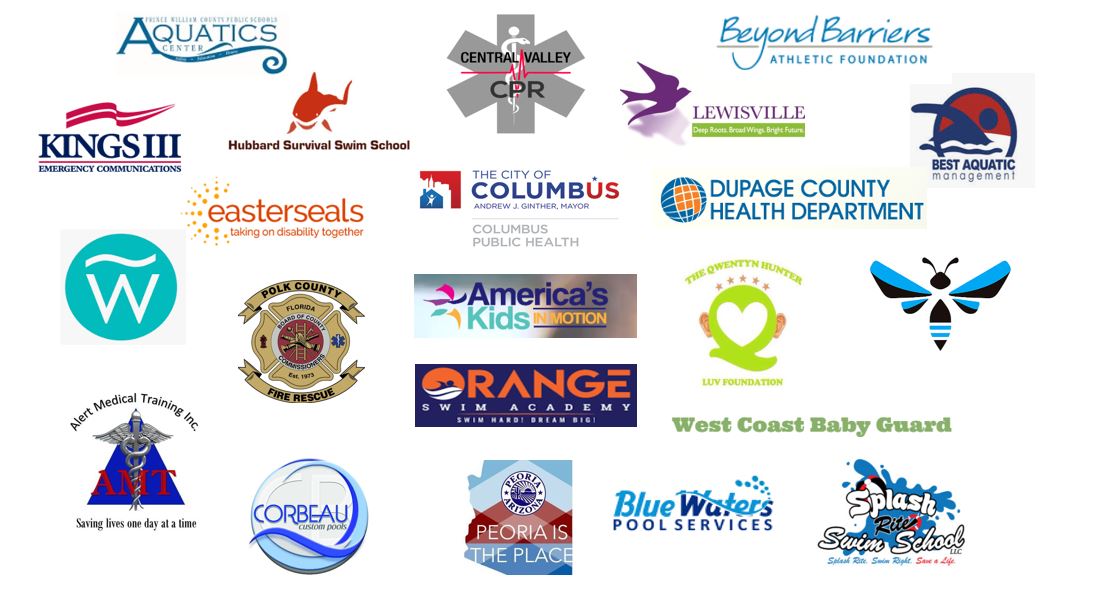 We are delighted to welcome 22 organizations as new Pool Safely partners:
Alert Medical Training, Inc.
America's Kids in Motion
Best Aquatic Management
Beyond Barriers Athletic Foundation (BBAF)
Blue Waters Pool Services
Central Valley CPR
City of Lewisville Parks & Recreation
City of Peoria, AZ
Columbus Public Health
CorBeau Custom Pools
DuPage County Health Department

 Easter Seals
Honeyman Pool & Spa
Hubbard Survival Swim School
Kings III Emergency Communications
Orange Swim Academy
Polk County Fire Rescue
PWCS Aquatics Center
Splash Rite Swim School
The Qwentyn Hunter Luv Foundation, Inc.
Wave Drowning Detection System
 West Coast Baby Guard
New #OntheBlog!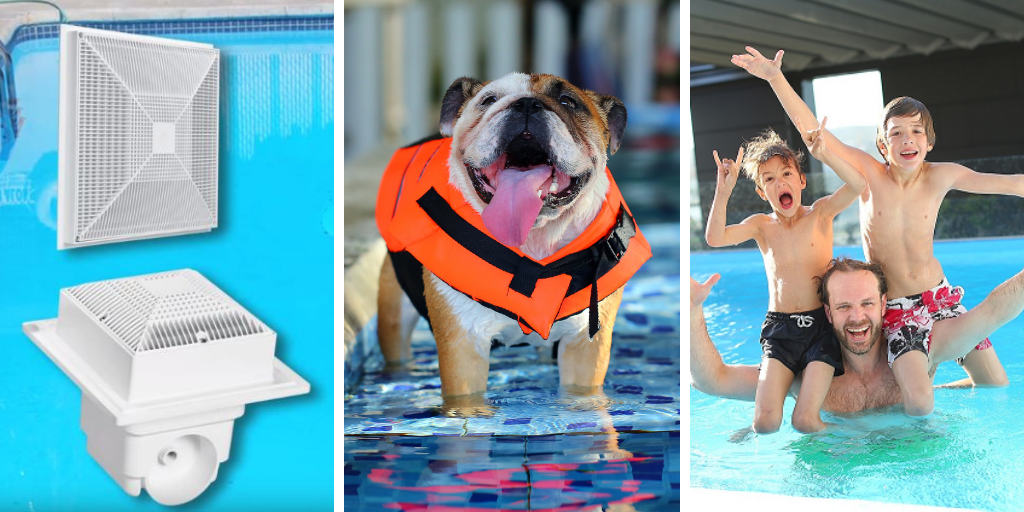 The Pool Safely blog shares periodic water safety tips and campaign updates. Check out several of our most recent posts, and share them with your networks:
Do you know how to spot an unsafe drain? Pool Safely published a primer on what to look for to tell if a drain is VGB-compliant before allowing kids to swim in a pool or spa. Read the post here.
For many families, summer vacations are just around the corner. Pool Safely published water safety tips specific to family vacations just ahead of Spring Break. Check out the post here.
Pool Safely kicked off the #PledgeItOn campaign with a blog post that shares instructions and sample social media content that you can use to participate in the campaign. Read the post here and #PledgeItOn!
Eager to read more about Pool Safely and the work we do across the nation? Head to our Twitter account or Facebook page @PoolSafely for daily updates.
Pool Safely Grant
In March, CPSC announced a call for applicants for the 2019 Pool Safely Grant Program, made possible through the Virginia Graeme Baker Pool and Spa Safety Act.  CPSC will award up to $2 million in two-year grants to assist state and local governments in reducing deaths and injuries from drowning and drain entrapment incidents in pools and spas. The grant application period runs through Wednesday, June 5, 2019. We need your help reaching state and local governments. Please encourage your local governments to apply!? Learn more here.
Thank you for your ongoing commitment to water safety and all that you do to #stopdrowning, especially as we head into another summer swim season.
Nikki Fleming
Pool Safely Campaign Leader
U.S. Consumer Product Safety Commission (CPSC)