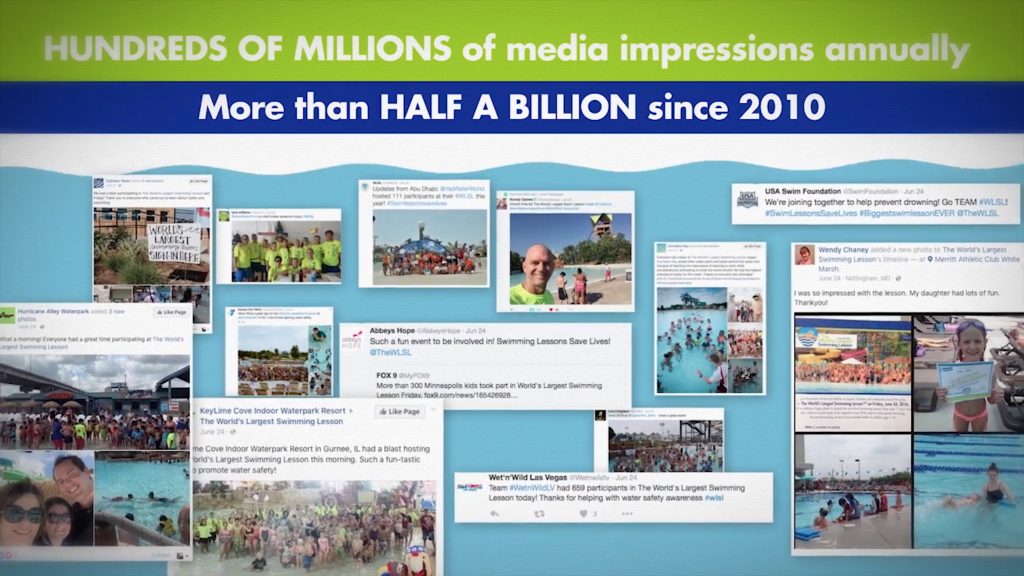 Tell me a little about your organization and how long have you been a Pool Safely campaign partner?
 The World Waterpark Association (WWA) was founded in 1982 and is an international, nonprofit, member-based trade association serving owners, operators, suppliers, developers and designers of water leisure attractions in more than 45 countries. Since our inception, safety has been a top priority for us and our members. Throughout the past 37 years, our efforts have been two-fold. First, we are committed to building top-notch online and in-person education and training programs that help operators deliver safe, memorable experiences to guests daily. Second, we are focused on creating water safety initiatives that emphasis the WWA's core belief that Swimming Lessons Save Lives™ and that every adult and child can play an active role in keeping themselves, their friends and their family safer in and around water.
Over the years, improving guest safety has driven the creation of several water safety programs that receive outstanding support throughout the water leisure industry. One such program is National Water Safety Month (NWSM), which is celebrated each May. We launched NWSM as a week-long initiative in June 2003. Four years later, we had the opportunity to partner with our industry friends within the National Recreation & Park Association to make it a month-long initiative each May. Over the years, we've seen support for NWSM grow and be recognized by operators in all 50 U.S. states. In fact, in 2016, we were able to garner a gubernatorial proclamation in support of NWSM from all 50 state governors, which covers more than 318 million people living within the U.S.
In conjunction with National Water Safety Month, the WWA founded another hugely impactful water safety event called the World's Largest Swimming Lesson™ event in 2010.
The World Waterpark Association is honored to have been a Pool Safely Partner since 2010. In addition, the WWA's Board of Directors awarded the CPSC's Pool Safely Campaign with its Kelly Ogle Memorial Safety Award in 2011 for its contributions to guest safety in the water attractions industry.
How has your organization made a difference among consumers when it comes to drowning prevention?
We've seen the kind of power that can be harnessed when our industry works together to educate consumers on water safety. In 2010, we were looking for new ways to tap into this power. We knew we had members in 45+ countries and that each of those facilities have any number of ways to reach out to their guests and local media resources with messages about drowning prevention. We also knew that more folks would get on board if we could offer them a ready-made, turnkey public relations event that spread vital life-saving messages, while also generating positive PR for the host location. So, in 2010, we launched the first World's Largest Swimming Lesson (WLSL) event to serve as a platform to help local community aquatic facilities and the many different national, regional and statewide water safety and drowning prevention organizations work together to tell the important story that Swimming Lessons Save Lives on a local and national level.
In that first year, we had 3,892 participants at 70 facilities in 5 countries. In 2016, we had 40,298 participants at 641 facilities in 24 countries. The growth in the amount of support the WLSL event receives is astounding; however, beyond what it means to have so many come out and participate in the 30-minute swim lesson itself are the number of media impressions the event continues to generate. Since its inception, the WLSL event has garnered more than a half billion media impressions.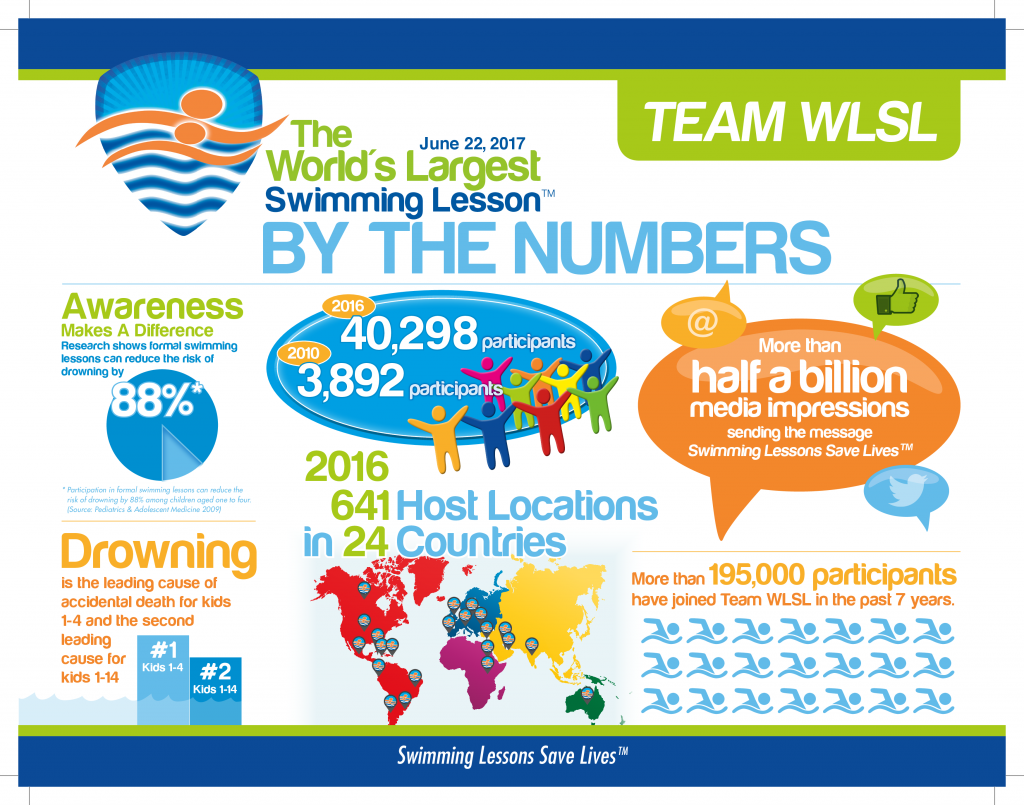 We never imagined that this event would become such a powerful tool for so many who care about drowning prevention around the world. We truly feel like the WLSL event has the space to continue spreading the message that Swimming Lessons Save Lives to millions more across the globe. Next year's event will take place June 22, 2017.
 What is the most useful/your favorite Pool Safely resource?
 We promote and celebrate the Pool Safely Pledge with our members on a regular basis. It's such a quick, easy way for consumers to review and digest important water safety steps. We have found that in today's world where moms, dads and kids are bombarded with so much messaging everywhere they go, that keeping safety messaging short and to the point are the most impactful. We also appreciate the printed materials so much. Many of our World's Largest Swimming Lesson Host Locations have used these materials as handouts for guests who participate. It's great to send a child home with a blow-up beach ball and a Water Watcher card that reminds them of how to stay safer in and around the water.
 What top three water safety steps or messages do you think are the most important for keeping kids safer in and around the water?
Of course, it is hard to narrow down to just three because there is so much work to be done to educate consumers about water safety. However, the top three that we focus on the most are:
Learn to swim. The best thing anyone can do to stay safe in and around the water is to learn to swim. This includes both adults and children.
Never leave children unattended. Parents are the first line of defense in keeping kids safe in the water. Never leave children unattended near water, not even for a minute. If your child's in the water, you should be too!
Wear a life jacket. If you or a family member is a weak or non-swimmer, wear a Coast Guard-approved life vest. It's nothing to be embarrassed about and many facilities provide them at no charge.
 Why do you think it is beneficial to partner with CPSC and the Pool Safely campaign?
 The World Waterpark Association is honored to be working with the CPSC and the Pool Safely campaign to support its important message that Simple Steps Save Lives. The sad truth is that drowning remains the leading cause of accidental death of children ages 1-4. The only way that any of us working within the aquatics industry are going to be able to impact that statistic is by combining our resources and sharing our messages across multiple platforms.
If we combine our voices, we will be able to educate more people on the importance of learning to swim, always providing undistracted adult supervision, wearing a life jacket, knowing CPR and using proper barriers around pools, among other messages.