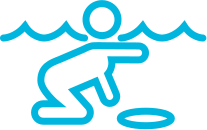 Before your kids go in the pool, you probably make sure that they are wearing sunscreen and check to see that the water appears clean, but when was the last time that you checked out the pool drain covers?
While checking drains is not something that many people think about, it is critical to ensure that all pools and spas have drain covers that are compliant with the Virginia Graeme Baker Pool & Spa Safety Act (VGB Act) to avoid entrapment hazards, which occur when powerful suction from the water circulation system in a pool or spa causes someone to become trapped underwater.
No public pool or spa should be open if the facility is not compliant with the VGB Act.
What is the VGB Act?

The law is named after Virginia Graeme Baker, a seven-year-old girl who died from drowning due to a suction entrapment from a faulty drain cover. Despite being a strong swimmer and a member of her community swim and diving team, Graeme was trapped underwater after she became stuck to a hot tub drain and was unable to pull herself free. Efforts by her mother to pull Graeme from the drain proved unsuccessful, and the two men who eventually freed Graeme from the spa had to pull so hard that the drain cover broke from the force. Graeme died from drowning, but the real cause of her death was suction entrapment due to a faulty drain cover.
After Graeme's tragic death, her mother, Nancy Baker, worked tirelessly to advocate for pool and spa safety. Mrs. Baker, her family and Safe Kids Worldwide worked with members of Congress to win support for the VGB Act, a law that requires public pools and spas to have anti-entrapment drain covers and other safety devices. U.S. Rep. Debbie Wasserman Schultz of Florida sponsored the legislation, and President Bush signed it into law in December 2007.
Tens of thousands of public pools and spas are safer today because of the safer drain covers and back-up systems that have been installed.
What does a compliant drain look like?
Check out this video from the ZAC Foundation and Abbey's Hope to learn about the differences between a dangerous, non-compliant drain cover and a safer, compliant drain cover.
Old, unsafe drain covers are flat and create a strong circulation that can easily trap hair or a body part if they become blocked. New, safer drains are designed to be curved so that they can never be fully blocked by a body part. Parents should always confirm with pool and spa owners that they are using anti-entrapment drain covers before allowing children to get in the water.
Terry Snow, outreach chairman of the Independent Pool and Spa Association, suggests that pool and spa industry professionals also recognize the need for safer drains, and provides several additional steps that parents can take to avoid entrapment hazards:
"Since 2008, swimming pools and spas are being retrofitted and designed to comply with the Virginia Graeme Baker Pool and Spa Safety Act. Today's drain covers are built with new standards. This has made the covers stronger and safer. Also, there are other options you can add for additional protection against entrapment:
Have a licensed swimming pool professional inspect the pool or spa;
replace any broken, missing, lose or non-complaint covers; and
always think safety around water!"
Teach kids to stay away from drains
One of the best things parents and caregivers can do to keep kids safer when they're in the water is to ensure that they stay away from drains and filters. As the Pool Safely Song reminds all kids: when you see a drain, stay away!
Additional resources
For more tips on avoiding entrapment, recognizing faulty drains and identifying safer ones, check out some of these great resources from Pool Safely and our partners:
And remember, you never know which step will save a life, until it does!