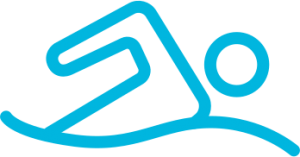 Knowing how to swim is a critical lifesaving skill that all kids and adults should possess. Why is learning to swim so important? Here are the facts according to the USA Swimming Foundation:
When children lack good swimming skills, drownings and close calls are eight times more likely;
70 percent of African-American and 60 percent of Hispanic/Latino children do not know how to swim;
African-American kids between the ages of 5 and 14 are three times more likely to drown than their Caucasian peers; and
If a parent does not know how to swim, there is only a 13 percent chance that a child in that household will learn how to swim.
Swimming lessons are both fun and a great way to ensure water safety.  Before signing children up for lessons, be sure to consider these steps:
Ask your child's pediatrician if the child can participate in swimming lessons; and
Check with your child's swim instructor about the nature of the lessons and if they include age appropriate water safety skills.
Don't know where to sign up for lessons? Organizations like the YMCA,  American Red Cross and USA Swimming Foundation offer classes in hundreds of communities across the country and are usually offered for a small fee or for free. Lindsay Mondick, Senior Manager, Aquatics for the YMCA of the USA, explains that swimming not only saves lives, but is a good way to stay active and healthy.
"Teaching children how to swim and be safer around water is one of the most important life skills parents can help their children learn. It not only saves lives, it builds confidence," said Mondick.  "Research shows that participation in swim lessons can reduce the risk of drowning among children one to four years of age; additionally, water safety and swim lessons promote a lifelong enjoyment of swimming, encourages healthy living and the prevention of chronic disease."
Looking for more information on this safety step? Here are a few more resources from Pool Safely and our partners on the importance of knowing how to swim: