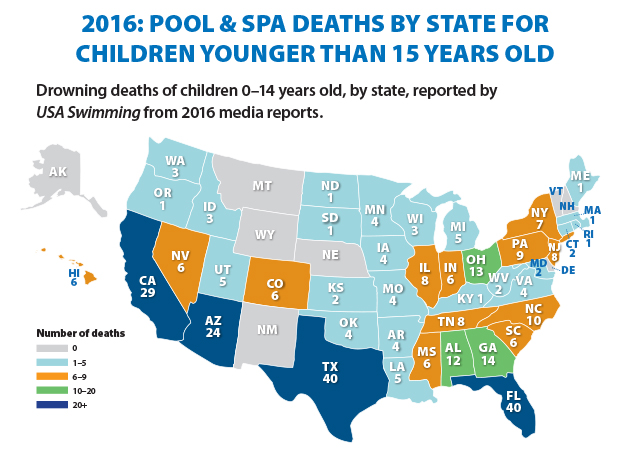 Last year, Florida and Texas each experienced 40 fatal child drownings, more than any other state. California and Arizona closely followed with 29 and 24 child drowning fatalities respectively, while Georgia was the 5th highest incident state with 14 fatal child drownings.
Our partners in these locations are looking to reverse this tragic trend. Family foundations such as Abby Grace's Hope in Auburndale, Florida, Colin's Hope in Austin, Texas and CPR Party™ in Bethesda, Maryland conduct extensive community outreach on water safety, hosting CPR and learn to swim events. Foster Fins in California offers free water safety swim clinics to foster children to ensure every child has the opportunity to learn to swim in a fun environment. G.I.L.L.S. in Atlanta, Georgia engages the community through its drowning prevention challenge! These are just a few of our hard-working partners. Visit our partners page to meet all our partners.
While warm-weather states typically experience higher rates of drowning incidents, there are some simple safety steps parents and families can take – regardless of where they live – to ensure children are safer in and around the water.
The Simple Safety Steps
Water Safety Activities for Kids
Learning about water safety can be fun! The parent's page on PoolSafely.gov features fun activities for children to teach them the importance of water safety. They can sing along to the Pool Safely song, or download and play The Adventures of Splish and Splash, an interactive app that teaches water safety.
It's important to Pool Safely. Follow simple safety steps no matter where you live.