December Newsletter
December 19, 2018
Dear Pool and Spa Safety Community,
As families prepare to spend time with loved ones for the holidays, the Pool Safely campaign is reminding everyone to #PoolSafely365. This means practicing water safety year-round, no matter the season.
CPSC's latest data shows that an average of 350 children younger than age 15 fatally drown in pools and spas each year. Additionally, from 2015 through 2017, an estimated average of 6,400 children younger than 15 years old were reportedly treated in hospital emergency rooms for nonfatal drowning injuries in pools or spas – that's an average of nearly six children every day, 365 days a year.
Together we can work to prevent these tragedies by spreading drowning prevention awareness and discussing water safety with families across the country heading into the holiday season and beyond.
Pool Safely Grant

At the end of September, CPSC awarded five state and local governments with a grant aimed at preventing pool and spa drownings as well as drain entrapments. Awardees will receive Pool Safely Grant Program funds to provide assistance for enforcement, training and education of pool safety requirements. Please join me in congratulating the awardees and read more in the announcement press release, here.
Partner Highlights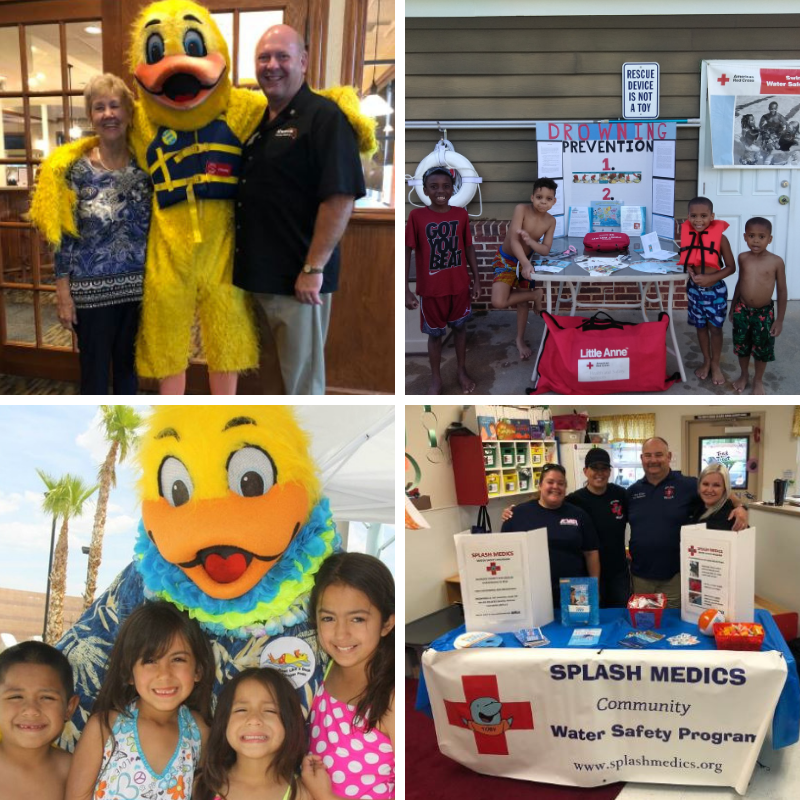 The holidays are a busy time for everyone, and our Pool Safely partners are no exception! They've remained active spreading water safety messages in creative and engaging ways, from in-person education to online videos, and everything in between!
Stew Leonard III Water Safety Foundation's Stewie the Duck continues to participate in water safety education activities throughout Florida, including meeting with Florida District Kiwanis Governor Steve LeBlanc and First Kiwanis Lady Chris Christine LeBlanc. (photo: top left).
I.L.L.S. Atlanta works to empower individuals with the skills needed to develop and maintain a healthy lifestyle, which includes teaching the importance of water safety. They've been active in and around their Atlanta community over the past few months, hosting drowning prevention events that included providing communities with water safety education materials as well as safety demonstrations (photo: top right).
Paragon Pools' Float Like a Duck initiative was profiled in a Pool and Spa News article about its growth from a community service initiative to an award-winning water safety endeavor (photo: bottom left).
Splash Medics continued its emphasis on year-round water safety by providing drowning prevention resources at a local children's learning center (photo: bottom right).
The USA Swimming Foundation awarded Olympian Rowdy Gaines with its Make a Splash Hero Award for his efforts as a champion for keeping kids safer in the water.
To raise awareness about drowning, Life Saver Pool Fence began a campaign that will involve publishing a new water safety message on YouTube, every day for a year.
Charlie's House hosted a ground-breaking ceremony to begin building the nation's first-ever safety demonstration house, located in Kansas City, Missouri.
Walmart's Walmart World online, a magazine for Walmart employees, published an updated article by CPSC Acting Chairman Ann Marie Buerkle on Pool Safely's simple safety steps.
Welcome New Pool Safely Partners!

The campaign would like to welcome three new organizations that partnered with Pool Safely this quarter:
Levi's Legacy
Roman Nose State Park
Teton Valley Aquatics
New #OntheBlog!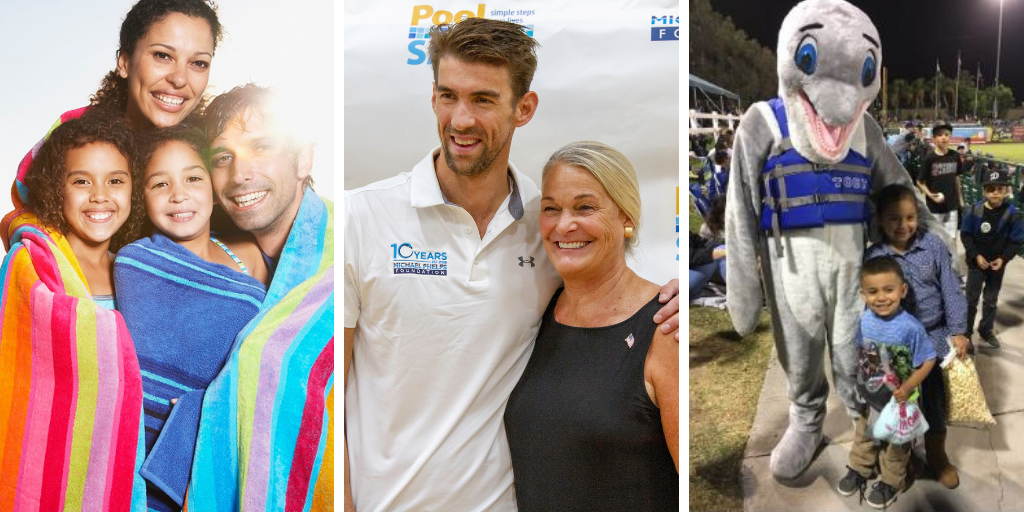 The Pool Safely blog shares monthly water safety tips and campaign updates. Check out our most recent posts:
Pool Safely in the News

Pool Safely continued to make headlines across the U.S. thanks to the Pool Safely grant program, drowning data and life-saving messaging. From Illinois to Louisiana, check out some of our media highlights this quarter:
Pool Safely was featured on Naperville Community Television for the $182,388 grant they awarded the DuPage County Health Department for pool safety training.
Wolf Tribune in Wasilla, Arkansas and TC Palm in Stuart, Florida highlighted end of summer child drowning data compiled by USA Swimming Foundation and shared by Pool Safely.
Eager to read more about Pool Safely and the work we do across the nation? Head to our Twitter account @PoolSafely for daily updates.
Thank you for all that you do, and happy holidays.
Nikki Fleming
Pool Safely Campaign Leader
U.S. Consumer Product Safety Commission (CPSC)