December Newsletter
December 21, 2017
Dear Pool and Spa Safety Community,
Happy Holidays! I am excited to introduce myself, Nikki Fleming, as the new Pool Safely campaign leader.
As 2017 comes to a close, I want to thank you – whether you are a Pool Safely partner, a representative of a swimming organization, or an individual passionate about drowning prevention – for everything you have done this year to educate your community and keep children safer in and around the water. Pool Safely strives to reduce childhood drownings and submersion injuries and entrapments.  My personal thanks to you for your hard work, and I know that we can continue to collaborate to save more lives in the New Year – and beyond.
Heading into 2018, you will notice we have decided to make the Pool Safely newsletter quarterly rather than monthly to streamline the important water safety information and campaign updates we share, so stay tuned for the next Pool Safely newsletter in March. In the meantime, we welcome you to connect with the campaign on Twitter. I look forward to working with all of you!
Honoring 10 Years Since the Passage of the Virginia Graeme Baker Act
December 19, 2017, marked 10 years since President George W. Bush signed the Virginia Graeme Baker (VGB) Pool & Spa Safety Act into law. Throughout the past 10 years–and because of the requirements in the VGB Act–the pool and spa industry has seen great improvements in water safety and drowning prevention. The most significant achievement is that from the time the Act went into effect in December 2008 until now, CPSC is not aware of any drain entrapment-related deaths involving children in public pools and spas. The Pool Safely campaign would like to thank its more than 1,000+ partners and supporters for their tireless determination to stop child drownings since the VGB Act was passed. For more about the campaign's efforts to honor this important anniversary, check out our blog post.
Blog Update
The Pool Safely blog continues to share water safety information on a monthly basis. In case you missed our last few posts, check them out here:
Learn all about Float Like a Duck in our partner spotlight interview with Joseph Vassallo, President of Paragon Pools and Co-Founder of the initiative.
Pool Safely's Know the Facts series provided an in-depth look at key statistics around fatal child drownings. Read the important five-part series.
Reading and swimming have something in common: they're both fundamental life skills for children! Many of our partners have published water safety books aimed at helping young kids understand the importance of water safety. Check them out in our November blog post.
Partner Highlights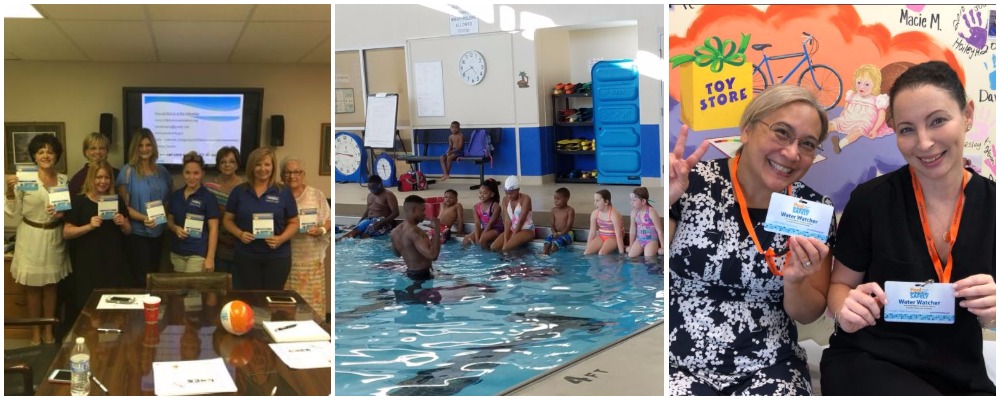 As the seasons change and temperatures drop in many parts of the country, our partners help to ensure water safety stays top-of-mind year-round:
Please join me in thanking these and other partners for continuing to share important water safety messages in communities across the country! Partners, please let us know about your drowning prevention efforts by emailing theme at poolsafely@cpsc.gov so we can help promote them.
New Pool Safely Partners

The campaign would like to welcome 9 new organizations that partnered with Pool Safely this quarter:
Pool Safely Grant
In January 2018, the CPSC will be announcing the availability of $1.1 million in federal grants under the Pool Safely Grant Program in accordance with the Virginia Graeme Baker Pool and Spa Safety Act. This program provides state and local governments with assistance to help implement enforcement and education programs, with the goal of preventing drownings and drain entrapments in pools and spas. We need your help reaching your state and local governments. Encourage them to apply!  https://www.poolsafely.gov/about-us/grants/
In FY 2016, five Pool Safely Grant recipients received a total of $1 million in grants as part of this program.
Nikki Fleming
Pool Safely Campaign Lead
U.S. Consumer Product Commission