May Newsletter
June 7, 2017
Dear Pool and Spa Safety Community,
It's Water Safety Month, and we have some big news to share! Check out the highlights below to see more about how we kicked off the summer swim season. Many of you are also hard at work kicking off the season nationwide, and we wish you lots of success. We are looking forward to the 2017 World's Largest Swimming Lesson coming up on June 22. Read on for details on how you can participate this year. Everyone at the campaign is hoping this is the safest summer yet for kids in and around the water!
The Michael Phelps Foundation Joins Pool Safely as a Partner
On May 20, the Pool Safely campaign announced a new partnership with the Michael Phelps Foundation and kicked off the summer swim season with an exciting event in Chicago! The memorable morning included a live interview with Michael on the TODAY Show, a swim lesson with children from the Boys & Girls Club and the Special Olympics, story time with Josh the Baby Otter and a press conference with Michael Phelps, CPSC Commissioner Joe Mohorovic, Blake and Kathy Collingsworth and others. The swimming lesson was led by Cathy Bennett, who taught the greatest Olympian of all-time how to swim. We were also joined by Michael's wife, mom, and friends/ surprise guests Australian Olympic medalist Grant Hackett and 8-time Olympic medalist Allison Schmitt.
Left photo: Everyone is all smiles after the swim lesson, including Commissioner Mohorovic, Michael Phelps, Allison Schmitt and Grant Hackett; Right photo: Michael offers remarks at the press conference with Blake and Kathy Collingsworth and Commissioner Mohorovic by his side.
The Safer Summer Swimming kickoff was a huge success, and we thank Pool Safely's wonderful partners for their support. Specifically, our special thanks to the Michael Phelps Foundation, Blake and Kathy Collingsworth of JCMF Children's Charities, the Boys & Girls Clubs of America, and their incredible staff at the Louis L. Valentine Boys & Girls Club in Chicago. In case you missed the event this weekend, you can watch the press conference on the CPSC Facebook page. Also, stay tuned for a Pool Safely blog post recapping the event.
Finally, be like Michael (and Mama Phelps, Nicole Phelps, Allison and Grant) and take the #PoolSafely Pledge. Let's all commit to swim safer this summer.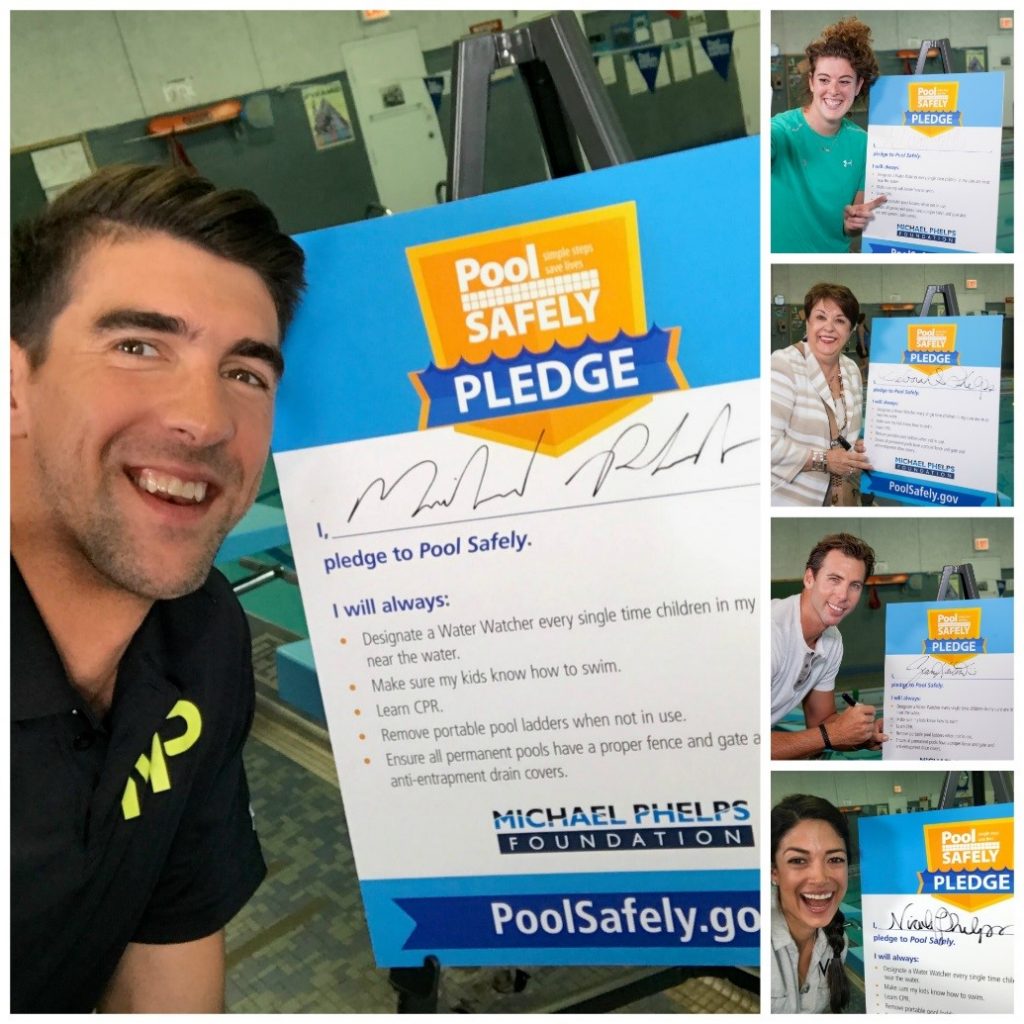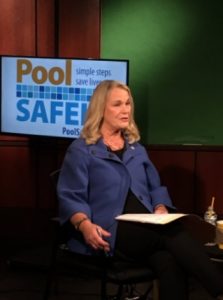 Kicking Off Summer Swim Season in the Media: New Data
On Tuesday, May 23, CPSC Acting Chairman Ann Marie Buerkle participated in 17 broadcast and radio media interviews across the United States, sharing Pool Safely's simple steps that save lives, as well as CPSC's latest fatal and non-fatal drowning data. Reports released by CPSC on Tuesday show a 17 percent reduction in fatal drownings between 2010 (the year the Pool Safely campaign was launched) and 2014 (the most recent data set available). In what is especially good news, this decrease is within the population most vulnerable to drowning: children younger than 5. While this is positive, those of us in the water safety community know that there is still much more work to do.
New Pool Safely Partners

The campaign would like to welcome 15 new organizations that partnered with Pool Safely this month:
Partner Highlights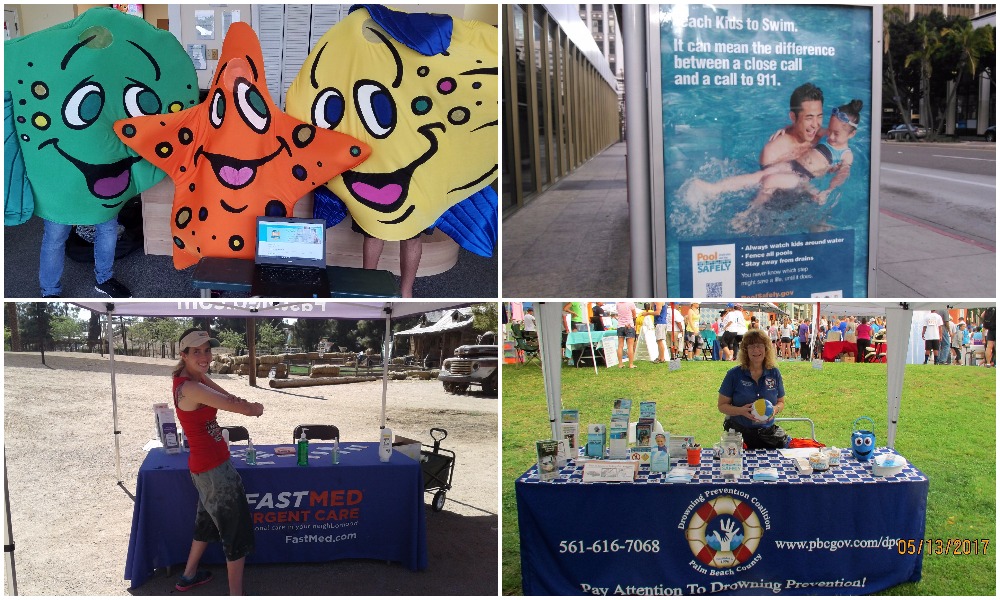 Many of our partners have promoted water safety in their communities during Water Safety Month:
Thank you to these and all other Pool Safely partners who are using campaign messaging to educate their communities! Also, a reminder to our partners to please continue to let us know about your water safety efforts so that we can help promote them.
Mark Your Calendars

June 22: Mark your calendar for the 2017 World's Largest Swimming Lesson (WLSL)! WLSL events will happen at hundreds of locations in more than 20 different countries on five continents over the course of this 24-hour period. Pool Safely will be participating as well, so stay tuned for more information about our event.
The entire month of June: Planning on seeing a movie in theaters next month? Keep your eyes peeled for the Pool Safely PSA! Throughout June, theatergoers can see our PSA in theaters throughout Arizona, Florida, California and Texas. If you see the PSA, snap a photo and email it to poolsafely@cpsc.gov.
 Blog Highlights

Please visit the Pool Safely blog to see our latest posts:
If you would like to be a featured partner in the Pool Safely blog, please email poolsafely@cpsc.gov.
Thank you for your continued support.