September Newsletter
September 20, 2018
Dear Pool and Spa Safety Community, 
Like many of our partners, the Pool Safely campaign had an incredibly busy summer, participating in the ZAC Camp at Andrews Air Force Base, co-hosting an event with the Michael Phelps Foundation, and analyzing data from the USA Swimming Foundation which indicate that media-reported drownings in pools and spas for children younger than 15 decreased 9 percent from the previous summer. Despite the positive news, drowning remains the leading cause of unintentional death for children ages 1-4. As summer sunsets into fall and cooler weather arrives for most of the country, it's important to remember to #PoolSafely365, as water safety never has an off-season.
Pool Safely and the Michael Phelps Foundation Honor a Decade of Water Safety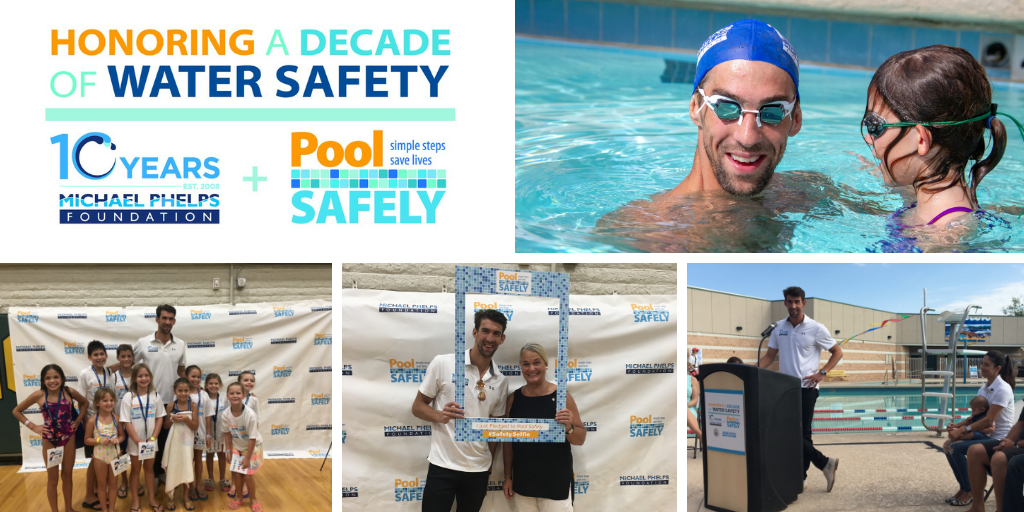 On August 25, Pool Safely and the Michael Phelps Foundation hosted a joint water safety event in Peoria, Arizona to honor a decade of water safety – both the 10th anniversary of the Michael Phelps Foundation and the 10 years since the passage of the Virginia Graeme Baker (VGB) Pool & Spa Safety Act. The event included a press conference, swimming lesson, swim stroke clinic with swimmers from the Special Olympics of Arizona, and a water safety community event with nearly 100 local children.
The community event featured water safety activity stations with Pool Safely partners CPR Party, Drowning Prevention Coalition of Arizona, JCMF Children's Charities, National Drowning Prevention Alliance, and The ZAC Foundation, as well as local advocates from the City of Peoria, City of Peoria Fire-Medical Department and Peoria Firefighters Charities. In addition to eight-time medalist Allison Schmitt and Cathy Bennett, the woman who taught Michael how to swim, Michael's mom, wife, and son joined in on the fun as well.
This amazing water safety event generated 15 media hits in the local Arizona market. Highlights include:
Arizona Foothills Magazine posted an excellent recap of the event that included a powerful quote from CPSC's Acting Chairman Ann Marie Buerkle about the incredible results of the Virginia Graeme Baker (VGB) Pool & Spa Safety Act.
NBC 12 Phoenix (KPNX-TV) reported additional details from the event as well as a positive anecdote from a participant about the experience of learning how to swim with Michael Phelps.
FOX 10 Phoenix (KSAZ-TV) published an informative story detailing child drowning statistics and included a quote from Michael Phelps about the importance of educating children about water safety.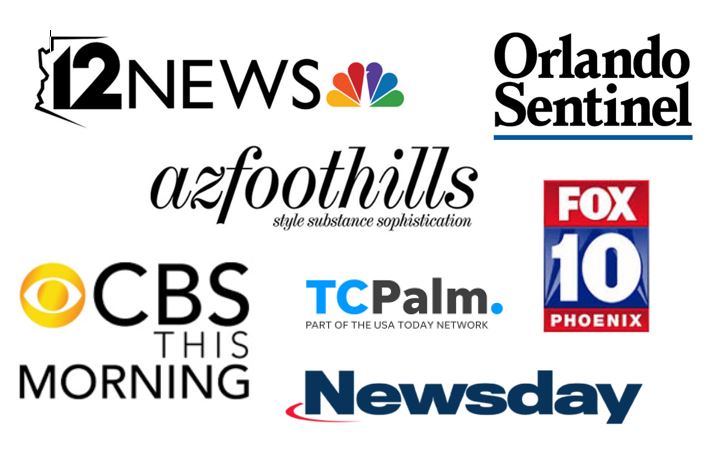 I would like to extend a sincere thank you to all our event partners who helped to make this such a success! In case you missed it, you can check out the photos and watch a replay of the press conference on the Pool Safely Facebook page.
Finally, I encourage you to join the entire Phelps Family and CPSC Acting Chairman Ann Marie Buerkle by taking the Pool Safely Pledge to commit to being safer around the water for the next 10 years and beyond.
Partner Highlights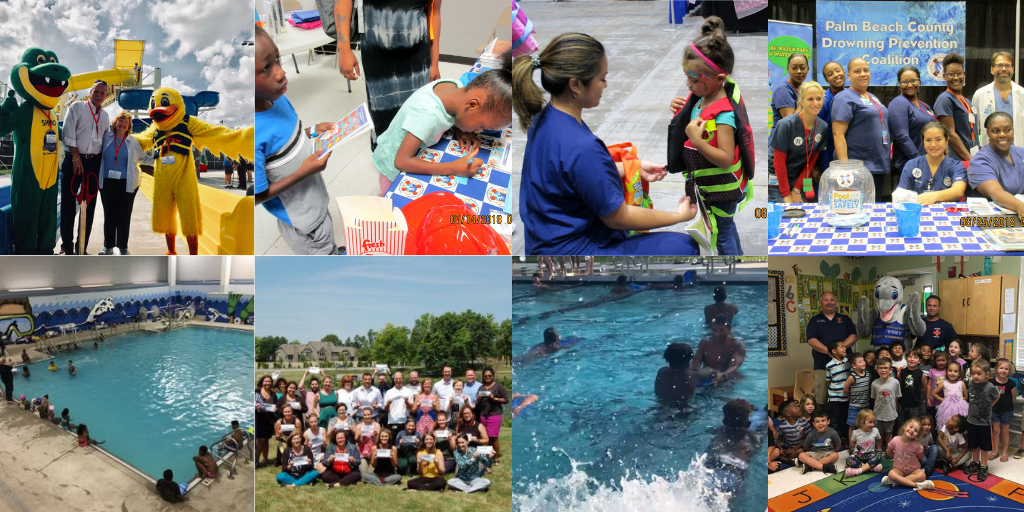 Summer may be the time most people choose to relax, but not our partners! They were hard at work educating children of all ages about water safety. Check out some of their summer highlights:
Stewie the Duck participated in the grand opening of a new aquatic facility. At the event, Stewie and other participants wore Pool Safely Water Watcher lanyards to emphasize the importance of having a designated water watcher (photo: top left corner).
The Drowning Prevention Coalition of Palm Beach County promoted water safety through a variety of events throughout the summer including a back-to-school bash and a local event for children under age 5 (photos: top row, second from left; top row, second from right; top row, far right).
Howard's Hope celebrated the 1,000th child to receive free swim lessons though its Flying Fish program (photo: bottom left corner).
The staff at the National Safety Council took the Pool Safely Pledge and encouraged others to do the same (photo: bottom row, second from left).
Safe & Healthy Children's Coalition of Collier County helped provide swimming lessons to local high school football players (photo: bottom row, second from right).
Splash Medics visited a local summer camp where students read, "Toby the Dolphin and Water Safety" and took the Pool Safely Pledge (photo: bottom right corner).
Shallow Water Blackout Prevention was featured in a video published by NBC Los Angeles, which highlights the dangers of shallow water blackout.
National Organization for Youth Safety (NOYS) featured Pool Safely in an online newsletter, asking their readers to follow our simple safety steps and take the Pool Safely Pledge. NOYS was also featured in a Washington Post article on how to keep swimming pools safer.
Safe Kids Fox Valley promoted the importance of a designated Water Watcher on its Facebook page and cited Pool Safely.
Welcome New Pool Safely Partners!

The Pool Safely campaign would like to welcome two new organizations that partnered with us this quarter:
American Safety Association
FloaterPaddle
New #OntheBlog!
The Pool Safely blog shares regular water safety tips and campaign updates. Check out our most recent posts:
In July, Pool Safely published a recap of our 2018 World's Largest Swimming Lesson with campaign partner Maryland-National Capital Park & Planning Commission Department of Parks & Recreation, Olympic swimmer Maddy Crippen, and 185 children from Prince George's County MD. Check out the post here.
In August, Pool Safely shared an overview of the campaign's free water safety resources that teachers can use in the classroom. Read the post here and share it with the teachers in your life.
Thank you for all that you do.
Nikki Fleming
Pool Safely Campaign Leader
U.S. Consumer Product Commission