September Newsletter
September 20, 2017
Dear Pool and Spa Safety Community,
Summer may be coming to a close in many states across the country, but we all know too well that colder weather doesn't mean drownings can't occur. With that always top of mind, let's keep working together even as we move into fall and winter months to help prevent these tragedies.
Help Us #PledgeItOn on Social Media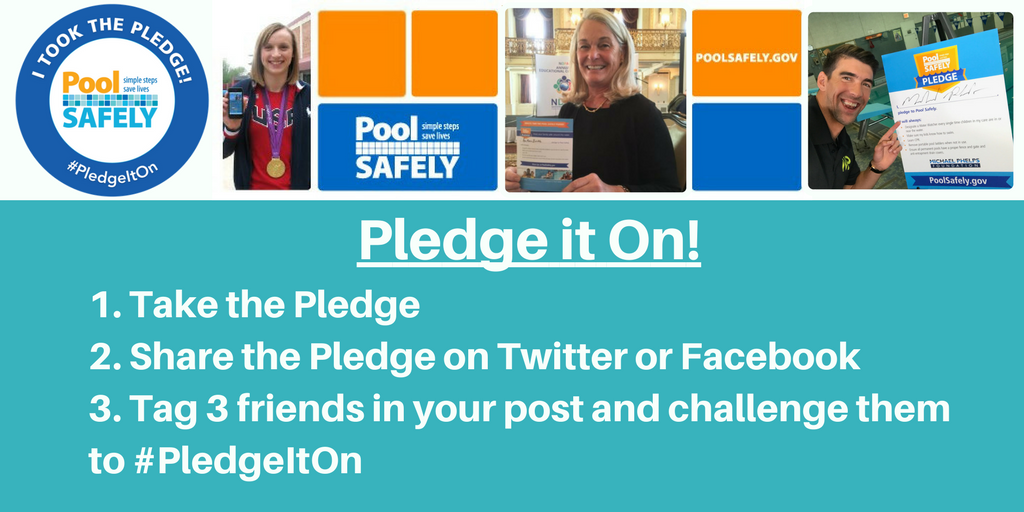 I am pleased to share that, thanks to our campaign partners, more than 63,000 people have taken the Pool Safely Pledge to date! During this fall season, in an effort to reach our next milestone of 75,000 Pledge takers, we are asking our partners to continue to #PledgeItOn. How can you participate?
Just share the Pledge on your social media channels, tag three friends in your post, and include the #PledgeItOn hashtag in your post to challenge them to do the same!
Also, as a reminder, if you have signed, hard copy Pledges, please mail them back to us at 4330 East West Highway, Bethesda, Maryland 20814, "Attn: Pool Safely/Elizabeth Klinefelter."
End of Summer Drowning Snapshot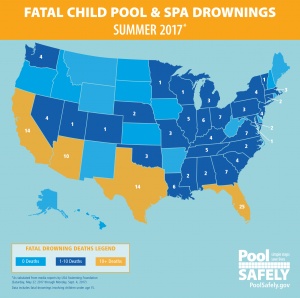 From Memorial Day weekend through Labor Day 2017 (May 27 – Sept. 4), at least 163 children younger than age 15 fatally drowned in swimming pools and spas, according to media reports compiled by the USA Swimming Foundation.
Of the 163 reports, 112 victims – nearly 70 percent – were children younger than age five.
Florida, California, Texas and Arizona suffered the highest number of pool and spa drownings involving children younger than 15.
Read more about the end of summer drowning data on PoolSafely.gov.
New Pool Safely Blog Posts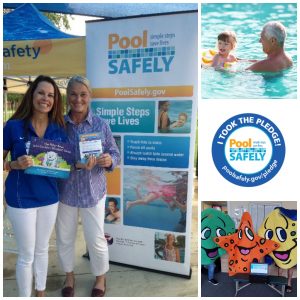 Were you one of our partner organizations that helped us collect hundreds of Pledges during the 4th annual Pool Safely Pledge Week? Be sure to check out our recap post to see if we featured your efforts!
Attention all grandparents: do you and your grandkids know how to Pool Safely? Start by reading our blog post on how to practice water safety with your grandchildren.
This summer, CPSC Acting Chairman Ann Marie Buerkle kicked off The ZAC Foundation's ZAC Camp with the Joint Base Andrews (JBA) Youth Program, where she had the honor of leading the opening ceremonies for the camp. Read all about the exciting day of water safety activities on the blog here.
Does your family know about the Safer 3? Read this important interview with the director of Stop Drowning Now, Lauren Bordages, to learn about its educational water safety curriculum.
Karen Cohn, co-founder of the ZAC Foundation, is our August Safety Selfie!
Partner Highlights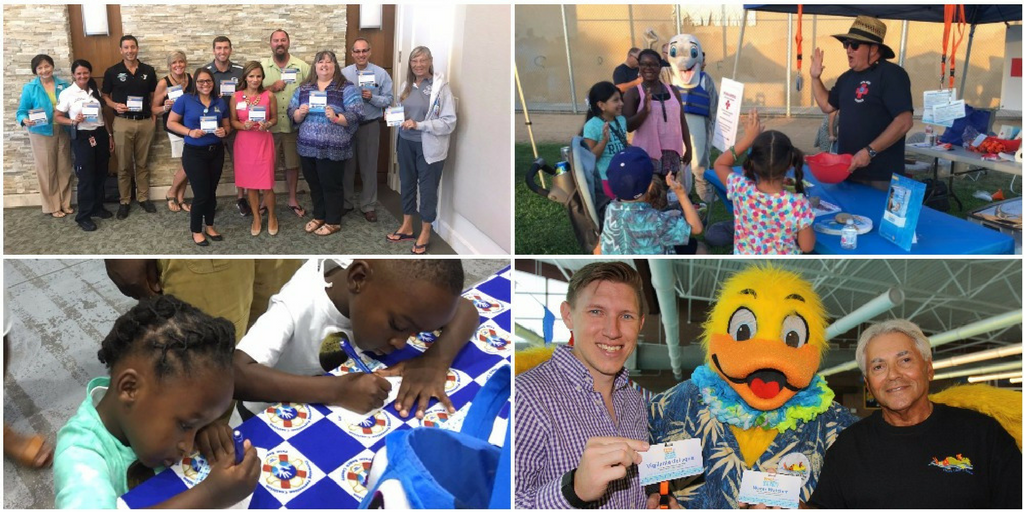 Many of our partners continued to build momentum by promoting water safety over the past month:
Please join me in thanking these and other partners working to stop drowning in communities across the country! Partners, please continue to let us know about your water safety efforts by emailing information about them to poolsafely@cpsc.gov so we can help promote them.
New Pool Safely Partners

The campaign welcomes six new Pool Safely partners this month:
On a personal note, I wanted to let you know that this will be the last email newsletter signed by me, as my wonderful colleague Nikki Fleming will be taking over the Pool Safely campaign starting in October. My time at CPSC will continue in a different role; know that I will still be cheering on the water safety community! It has been a pleasure getting to know you, and I look forward to continuing to follow all the work you do to help #stopdrowning.
Thank you for your continued support.
Elizabeth Klinefelter
Pool Safely Campaign Lead
U.S. Consumer Product Commission