Pool Safely partners are the lifeblood of the campaign. Without the shared voices of our partners tirelessly advocating for drowning prevention, we would not reach nearly as many parents, caregivers and members of the pool and spa industry with our critical safety messages. Pool Safely partners are national and local water safety organizations, family foundations, pool and spa manufacturers and everyone in between. They share important water safety messages and have a visible role in campaign initiatives, such as at conferences, via social and earned media opportunities.
In addition, campaign partners benefit from collaboration with CPSC at special events throughout the year and receive regular messaging and campaign updates via Pool Safely news alerts. We also regularly highlight our new and current partners' activities in the campaign's well-received monthly newsletter. Many partners appreciate the robust social media benefits of a partnership since Pool Safely regularly promotes partners' water safety initiatives and events to its nearly 7,000 Twitter followers, along with featuring partners' photos on the Pool Safely Flickr page. Pool Safely partners also enjoy working with us because we provide access to free campaign educational materials – for kids and adults – that help spread the water safety message to their audiences.
Don't just take our word for it. Hear from some of our partners:
"The Drowning Prevention Coalition of Palm Beach County is extremely grateful to partner with the Pool Safely campaign," said Anna Stewart, manager. "Both their written and online educational materials (which are free) are an invaluable resource for our organization.  With the campaign's help, we are able to provide parents and children with important materials such as Pool Safely stickers, beach balls and bookmarker as an extra reminder of our lifesaving messages."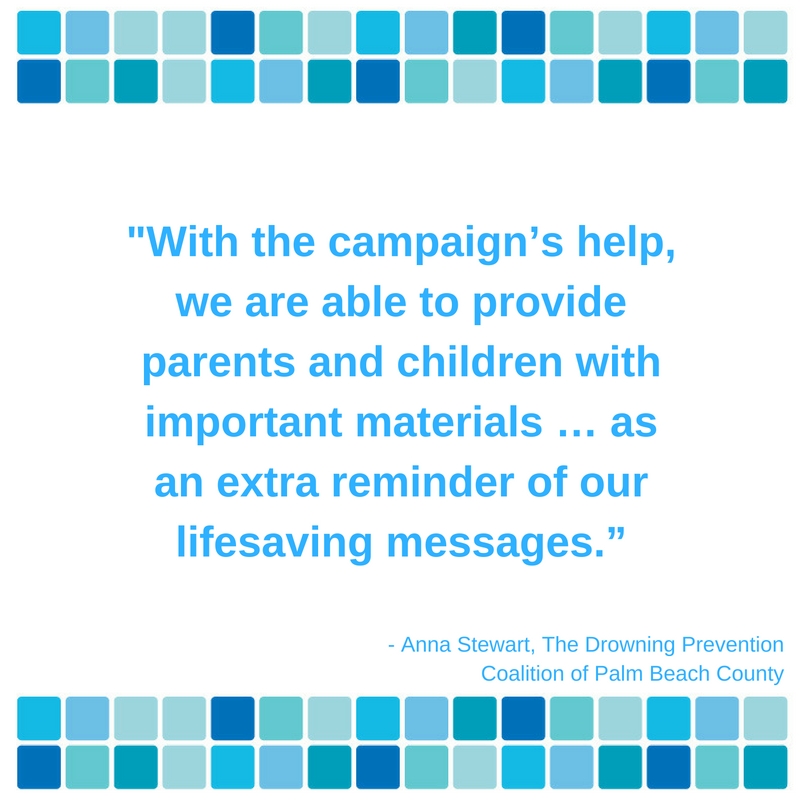 "The Joshua Collingsworth Memorial Foundation was proud to partner with Pool Safely in July 2016 during its third annual Pledge Week," said Blake Collingsworth, founder of the organization, which honors his son Joshua. "Thanks to Pool Safely's resources for partners like us, we were able to make nearly 200 new friends this summer through helping kids take the Pool Safely Pledge and teaching them to be safer around the water with Josh the Otter."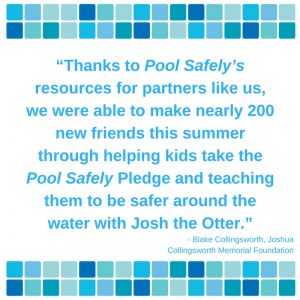 "The American Red Cross is proud to be a Pool Safely campaign partner," said Connie Harvey, director of the Red Cross Aquatics Centennial Campaign. "It aligns with our mission to save lives by educating children and adults about the importance of learning to swim and being safe in, on and around the water. The Red Cross has been very active in the campaign from the beginning. When organizations work together, our impact is even greater."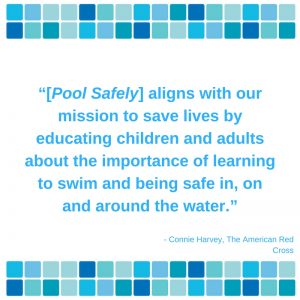 So whether you're looking for some additional resources, need new materials or are looking for support amplifying the drowning prevention message, Pool Safely is here and ready to help. If you are committed to drowning prevention and water safety but are not yet a partner, we welcome your involvement!
To learn more about our partnerships, please visit the "Become a Partner" page on poolsafely.gov or email poolsafely@cpsc.gov.