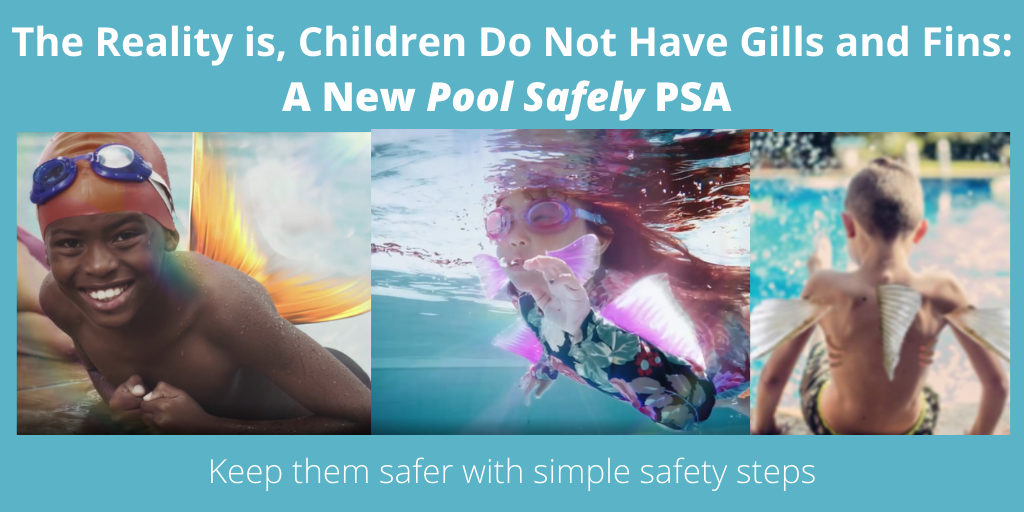 What if kids were born with gills and fins? If that were the case, no parent or caregiver would ever have to worry about their children's safety in or around the water. The reality, of course, is that children do not possess these built-in swimming abilities, and it is of utmost importance to teach them how to swim. At the same time, it is critical for families to follow other essential water safety steps to help prevent child drowning incidents.
This is the main message the U.S. Consumer Product Safety Commission (CPSC) Pool Safely campaign highlights in its newly-released public service announcement (PSA), "What if Kids Had Gills and Fins?" Available in English and Spanish, the PSA's unique, animated message illustrates the reality of water safety: that swimming lessons, layers of protection, and supervision are essential to keeping children safer and combatting the rising drownings among children ages 1-14.
Sadly, drowning remains the leading cause of unintentional death among children ages 1 to 4, and is still the second leading cause of unintentional death for kids ages 5 to 14. Moreover, CPSC's latest drowning data show that fatal child pool and spa drownings are on the rise, with an average of 379 reported pool-or-spa-related fatal drownings reported per year for 2015 through 2017.
In addition, with more families staying at home due to COVID-19 restrictions, there is an increased risk of child drownings, even as Americans head into the cooler weather months. During this time, Pool Safely's new PSA is designed to draw attention to the increased importance of water safety vigilance, and to urge everyone to take critical safety steps to reverse the upward trend in fatal child drownings.
CPSC continues to work to improve awareness among families to help prevent these tragedies, especially during the current stay-at-home environment. In addition to the safety messaging shared in the new PSA, the Pool Safely campaign urges families to follow these safety tips while in and around the water:
Never leave a child unattended in or near water, and always designate an adult Water Watcher. This person should not be reading, texting, using a smartphone or be otherwise distracted. In addition to pools and spas, this warning includes bathtubs, buckets, decorative ponds, and fountains.
If you own a pool or spa, install layers of protection, including a four-sided fence with a self-closing, self-latching gate.
Learn how to perform CPR on children and adults. Many communities offer online CPR training.
Learn how to swim and teach your child how to swim.
Keep children away from pool drains, pipes and other openings to avoid entrapments.
Ensure any pool and spa you use has drain covers that comply with federal safety standards, and if you do not know, ask your pool service provider about safer drain covers.
Visit the Pool Safely Kids' Corner to keep children entertained and educated with virtual water safety games and activities.
Take the Pool Safely Pledge as a family, and find customized water safety resources using the Pool Safely Safer Water Information Match (S.W.I.M.) tool.
You can also download the new PSA video here, and we hope you will share it with your networks via social media.