August Newsletter
August 22, 2017
Dear Pool and Spa Safety Community,
The last month of the summer season is already here! It's hard to believe that all the kids will be back in school in a few short weeks and it will be time to start thinking about closing our pools for the season. I am impressed by the tenacity in which all of our Pool Safely partners have shared important water safety messages this summer and all your efforts to help keep families safer around water.
Pool Safely Joins ZAC Camp for a Day of Water Safety at Joint Base Andrews
On Aug. 8, CPSC Acting Chairman Ann Marie Buerkle joined Pool Safely partner The ZAC Foundation to kick off its second annual water safety ZAC Camp with the Joint Base Andrews (JBA) Youth Program. Acting Chairman Buerkle and Karen Cohn, Zachary's mother and ZAC Foundation co-founder, led the opening ceremony for the camp, along with Major Jennifer Stewart, 11th Force Support Squadron Operations Officer, and JBA Youth Director Vincent Eure. Stay tuned for a blog post with a full recap of the event!
60,000 Pledges and Counting!
We are happy to announce that the Pool Safely campaign recently reached another extraordinary milestone: 60,000 Pledges! Thanks to the exemplary efforts of our partners nationwide, such as Drowning Coalition of Palm Beach County in Florida, Tadpole Academy in Louisiana and the City of Boynton Beach, Florida, we have expanded awareness on water safety to thousands of people. Our partners are the foundation of Pool Safely and we are grateful for the dedication to preventing child drownings in the community.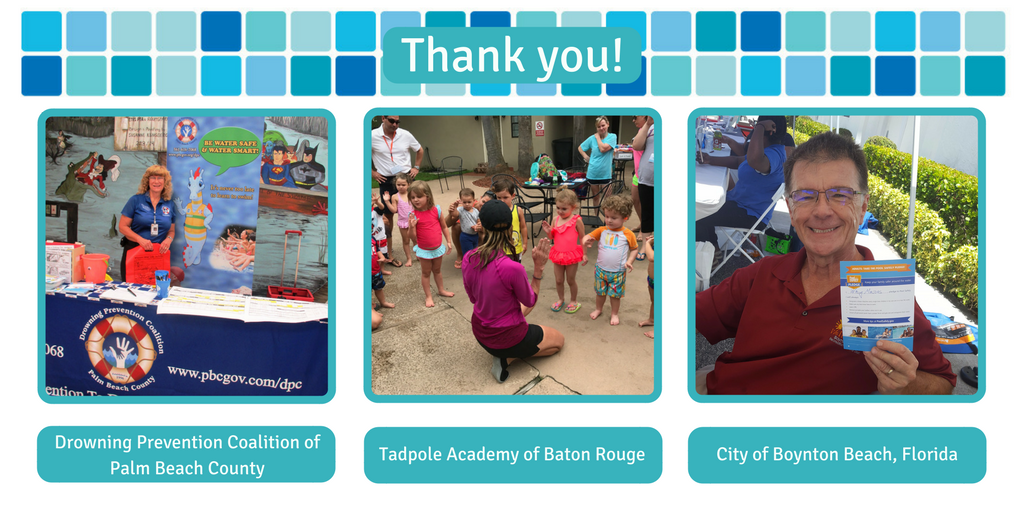 Even as the summer comes to an end, we encourage you, and your family and friends, to remain committed to water safety. If you have not already taken the Pledge, or would like to reinforce Pool Safely's lifesaving simple safety steps in your community, be sure to add your name. The 60,000+ signatures include Olympians, members of Congress, community leaders and partners. As a reminder, the Pool Safely Pledge is for both children and adults, and is available in both English and Spanish.
New Pool Safely Partners

The campaign welcomes 13 new Pool Safely partners this month:
Partner Highlights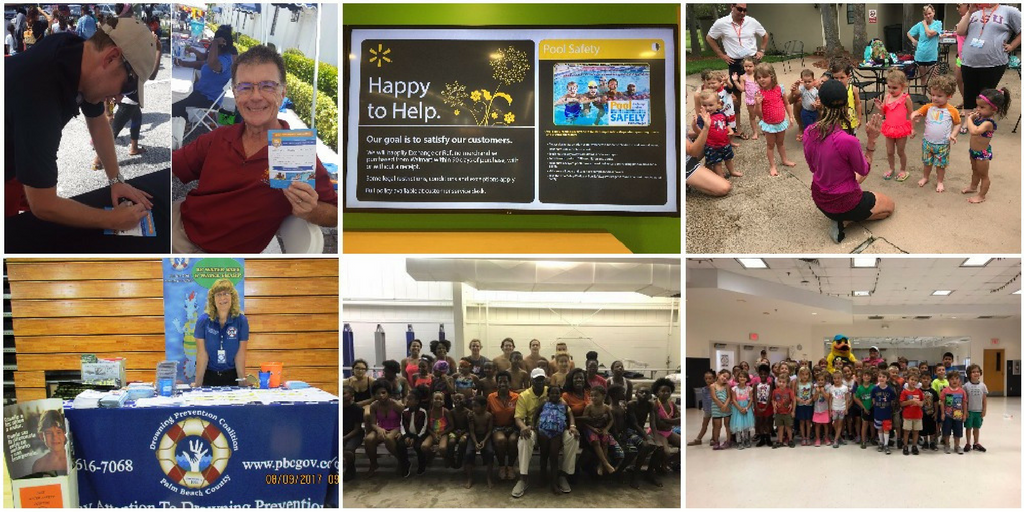 Many of our partners have found new and creative ways to actively promote water safety over the past month:
Please join me in thanking these and other partners working to stop drowning in communities across the country! A reminder to partners to please continue to let us know about your water safety efforts by emailing poolsafely@cpsc.gov so we can help promote them.
Drowning Impact Awareness Month in Arizona
Late summer means pool parties, and a time for families to remember the simple water safety steps that are so important to keep kids safer. Arizona welcomed August with their annual Drowning Impact Awareness Month, a statewide campaign coordinated by Pool Safely partner Phoenix Children's Hospital. The campaign features official proclamations, events and purple ribbons remembering those children in Arizona who have fatally drowned.
Pool Safely in the News
This summer the Pool Safely campaign has been featured in the media as we worked to raise awareness about water safety. Check out some of our greatest hits:
Good Morning America – Ahead of the 4th of July holiday, data from the Pool Safely campaign was highlighted in a segment about water safety in and around pools. The story also aired on local stations nationwide.
NBC News – As part of their summer safety series, NBC News released nationally an interactive graphic to help parents and pool owners understand how to make their time around residential pools safer.
Parents Magazine – In the June issue of Parents Magazine, Pool Safely was featured along with the magazine's version of the Pool Safely Pledge.
Many of our partners in the drowning prevention community have also been working with their local media this summer to share lifesaving water safety messages – we love seeing your media clips! Please continue to share them with us on social media.
August Blog Highlights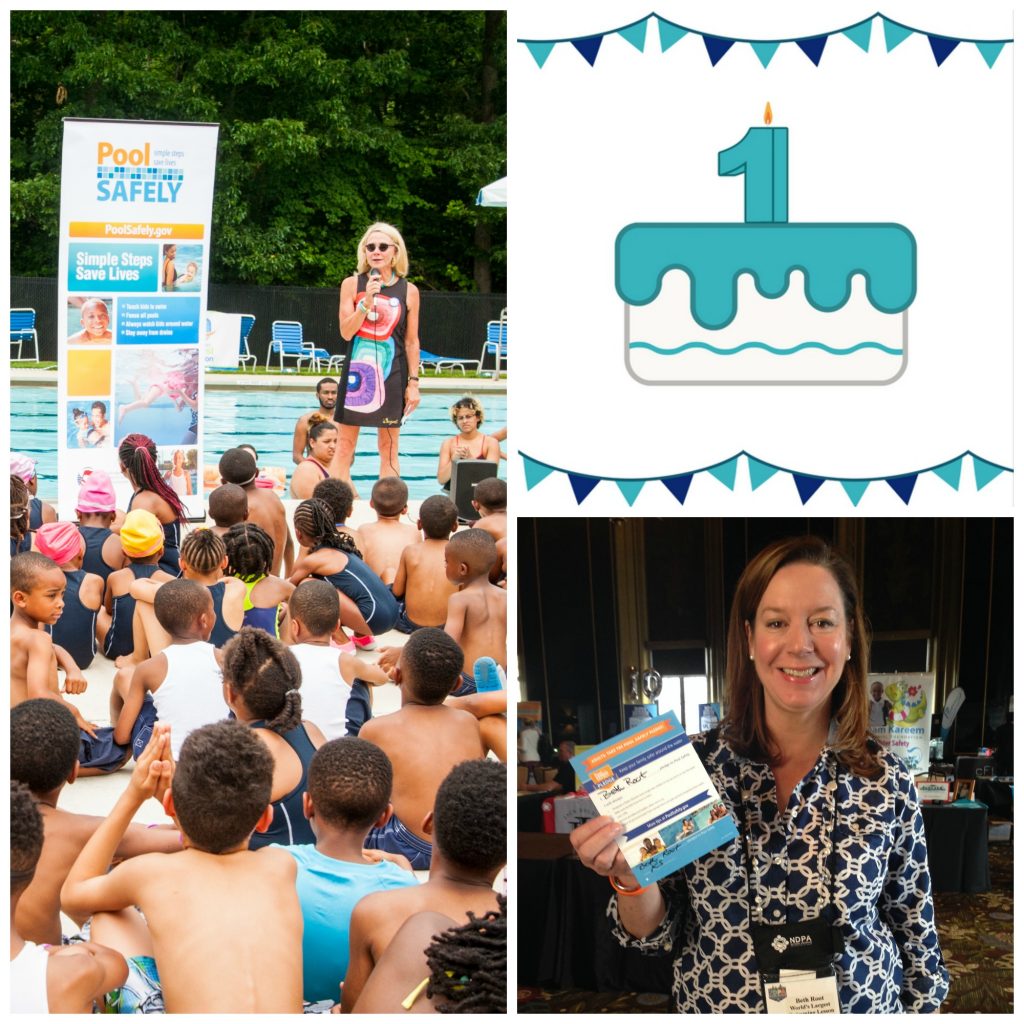 The Pool Safely campaign may be seven years old, but the blog just turned one! Twelve months and nearly 50 posts later, read the recap on what the blog has covered over the past year.
CPSC Commissioner Marietta Robinson along with 100 children participated in a local World's Largest Swimming Lesson to teach children the lifesaving skill of swimming while raising public awareness of water safety. Read more about this fun annual event.
Do you commit to do all you can do to help protect kids when they are in and around the water? Then be like Beth Root of the World Waterpark Association, our July Safety Selfie feature, and take the Pool Safely Pledge!