June Newsletter
June 27, 2017
Dear Pool and Spa Safety Community,
It's nearly time for families across the country to gather at pools during the upcoming Independence Day weekend. The Pool Safely campaign wants to remind parents and children to follow simple steps to stay safer when spending time in or near the water during the holiday.
Reports from the USA Swimming Foundation indicate that at least 87 children younger than 15 have fatally drowned in a swimming pool or spa from January 1 through May 31 of this year, and on average, 17 children drown during the July 4th week. So, if families follow a few simple steps, we can prevent fatal drownings during the Fourth of July holiday week.
World's Largest Swimming Lesson
The Pool Safely Campaign joined the Maryland-National Capital Park & Planning Commission Department of Parks & Recreation and former Olympic swimmer Maddy Crippen at a pool in Seat Pleasant, Maryland on Thursday, June 22 to participate in the 2017 World's Largest Swimming Lesson.
Marietta Robinson, Commissioner for the U.S. Consumer Product Safety Commission, gave a poolside chat ahead of the swimming lesson and encouraged participants to follow simple water safety steps while at the pool this summer and led them in taking the Pool Safely Pledge. More than 100 kids from Prince George's County, Maryland participated in the event and gained the lifelong skill of learning how to swim. You can see more photos from the event on our Flickr page!
New Pool Safely Partners

The campaign would like to welcome 21 new organizations that partnered with Pool Safely this month:
Partner Highlights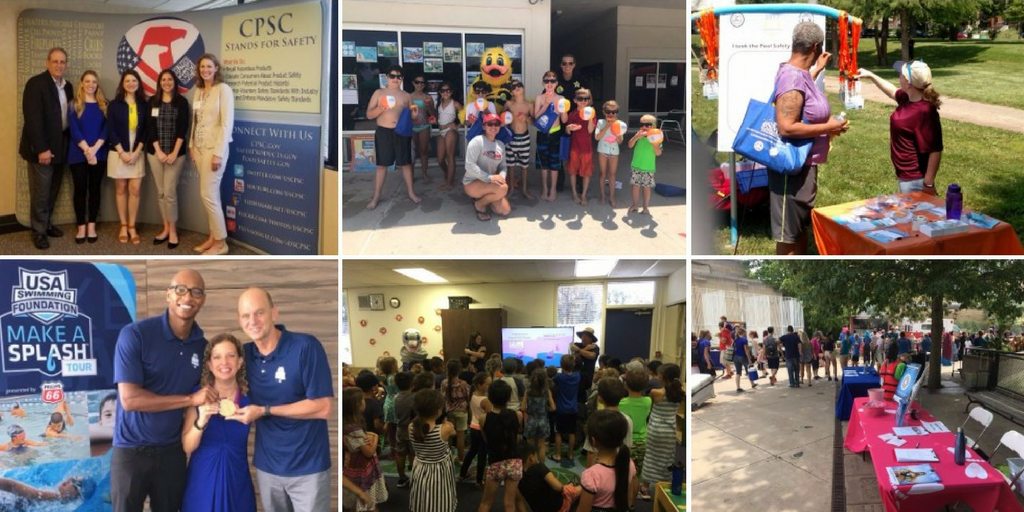 Summer swim season is in full swing, and many of our partners have taken this opportunity to remind their communities about important water safety steps they can take to stay safer around the water:
We are grateful for all Pool Safely partners who are using campaign messaging to educate communities across the country about the simple steps that they can take to help stop drowning. Also, a reminder to our partners to please continue to let us know about your water safety efforts by emailing poolsafely@cpsc.gov so that we can help promote them!
Swim Season 2017 Partner Toolkit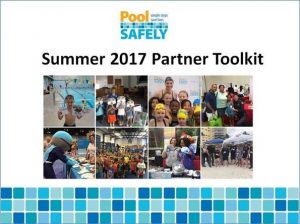 Pool Safely circulated the 2017 Summer Swim Season Partner Toolkit to partners this month and added it to PoolSafely.gov. You can find it on the partners page, and also in the materials catalog. The toolkit includes drowning prevention messaging, sample social media posts and more. Partners are welcome to use these tips and posts their own communications and marketing efforts throughout the year. Please take a look and use our resources as your own this summer (and beyond).
Mark Your Calendars

July 17-23, 2017: Now that summer is in full swing, we invite you to participate in the fourth annual Pool Safely Pledge Week. During the week, you can take part in a variety of activities to help raise awareness about water safety and encourage people in your network to take the Pledge. This week you, your family, friends, and colleagues can join the more than 50,000 others, including members of Congress, U.S. Olympians and celebrities, who have made a commitment to water safety by signing the Pledge.
July 26-29, 2017: Be sure to register for longtime Pool Safely partner Safe Kids Worldwide Childhood Injury Prevention Conference, "Prevcon," in Baltimore, Maryland. Injury prevention and health practitioners from across the country and around the world are convening to learn and share new methods to keep children and families safer.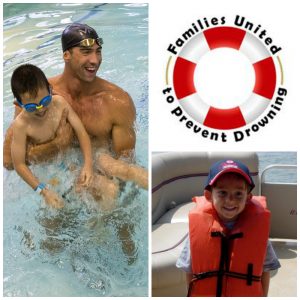 On the Blog
Looking for some summer reading? Check out the latest posts on the Pool Safely blog:
– Pool Safely kicked off summer swim season with Michael Phelps! Check out the blog post for behind-the-scenes photos and video of the exciting event.
– Learn about The ZAC Foundation and the ABC&D's of water safety in our interview with their executive director, Megan Ferraro.
– Read about the moms, dads, sisters and brothers who are united by the tragedy of drowning and what they are doing to ensure #NotOneMore child drowns.
If you would like to be a featured partner on the Pool Safely blog, please email poolsafely@cpsc.gov.
Thank you for your continued support.