Pool Safely September Newsletter: Campaign Launches New PSA Highlighting Need for Families to Follow Water Safety Steps All Year
September 23, 2020

Dear Pool and Spa Safety Community,
As the summer swim season winds down, we hope this newsletter finds you well. CPSC wishes you a safe and healthy start of the school year for those of you with children.
This month, we are pleased to share the Pool Safely campaign's new public service announcement (PSA) video, created in English and Spanish. As you will see, it conveys the importance of water safety behaviors in a powerful and creative way. We hope you will share it with your networks. Keep reading to learn more about the video, meet our newest collaborators, and more!
New "What if Kids Had Gills and Fins?" Video Shows Importance of Taking Precautions to Keep Kids Safer in and around Water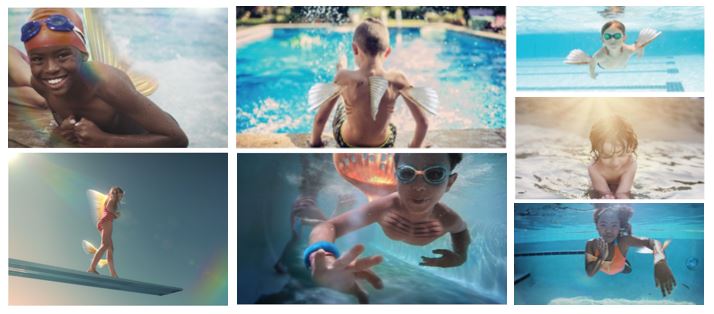 What if kids were born with gills and fins? Then no parent or caregiver would ever have to worry about their safety in the water. But because children do not have these extra body parts, the PSA demonstrates via unique animation the critical importance of teaching children how to swim. Launched by CPSC today, September 22, the video emphasizes that because children do not possess built-in swimming abilities, drowning is the leading cause of unintentional death among children ages 1-4 each year. Therefore the best way to keep kids safer is by following simple water safety steps.
In addition to the online versions in English and Spanish, the new PSA will be shared via @PoolSafely social media posts in the coming weeks.
Please click on the following links to view the PSA in these formats:
Summer Swim Season 2020 in Review
The release of CPSC's drowning and submersion report along with the COVID-19 stay-at-home orders made for an unprecedented summer. According to the report, there was a steady increase of child drownings from 2015 to 2017, a majority of which were reported at residential pools. With more families spending time at home, the delayed opening of many public pools, and a pause on many traditional group swimming lessons, the need to reach parents and caregivers with drowning prevention messages was all the more important this summer.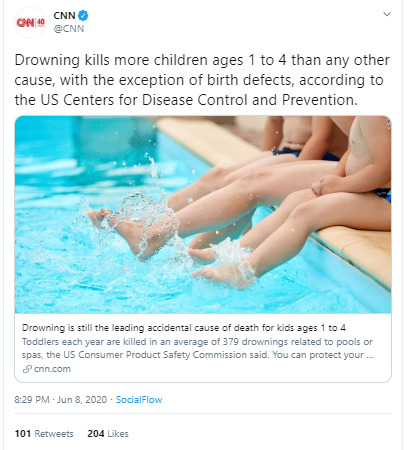 To highlight these messages, CPSC shared its drowning data and Pool Safely tips in online and broadcast publications across the country —most notably, in CNN, TODAY and HuffPost. Due to limited access to facilities with lifeguards this summer, the coverage emphasized the increased importance of adult supervision and installing layers of protection, especially as more families relied on above- ground pools and other residential pools.
Overall, between June and August of 2020, CPSC is pleased to have played a key role in sharing the "water safety at-home" message far and wide: Pool Safely media coverage generated more than 430 million impressions via nearly 600 placements in radio, television, and print/online media outlets.
Furthermore, our community knew it was important to work together to demonstrate how families can best Pool Safely at home, so we collaborated with water safety advocates and swimming experts to share videos on campaign social media channels. These videos highlighted top tips for drowning prevention. Dubbed the "Ask The Experts" series, there were more than 20 videos featuring CPSC Commissioner Peter Feldman, Nicole Phelps (on behalf of the Michael Phelps Foundation) Bridget McKinney from the American Red Cross, U.S. Olympian Rowdy Gaines, Miriam Lynch from Diversity in Aquatics, and many more!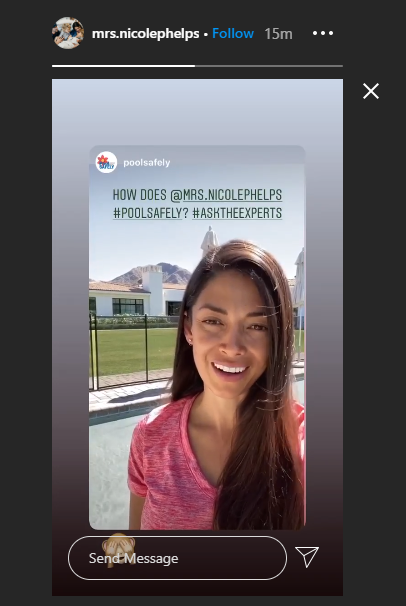 New on the Blog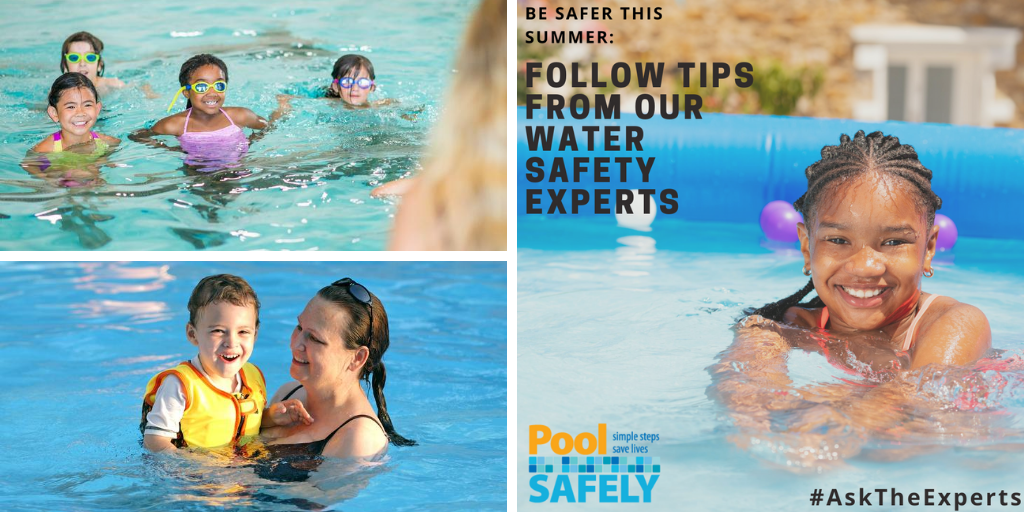 The Pool Safely summer blog posts connected campaign collaborators and families with valuable water safety information related to the current at-home environment. Check them out via the following links:
Digital resources to help everyone Pool Safely at home, including the Pool Safely App, song and new activity worksheets for kids;
The launch of our "Ask the Experts" video series in response to the concerning rise CPSC reported in child drownings, along with those reported during COVID-19;
Customized tips to help families continue to Pool Safely amid the pandemic, including CDC health and safety considerations for visiting public pools; and
Information about racial disparities in swimming ability, along with tips to keep all kids safer in and around the water all year long.
Welcome New Pool Safely Community Members
Pool Safely is pleased to have recently welcomed four new organizations as community collaborators. We look forward to working together to share critical lifesaving messages.

Pool Safely Community Highlights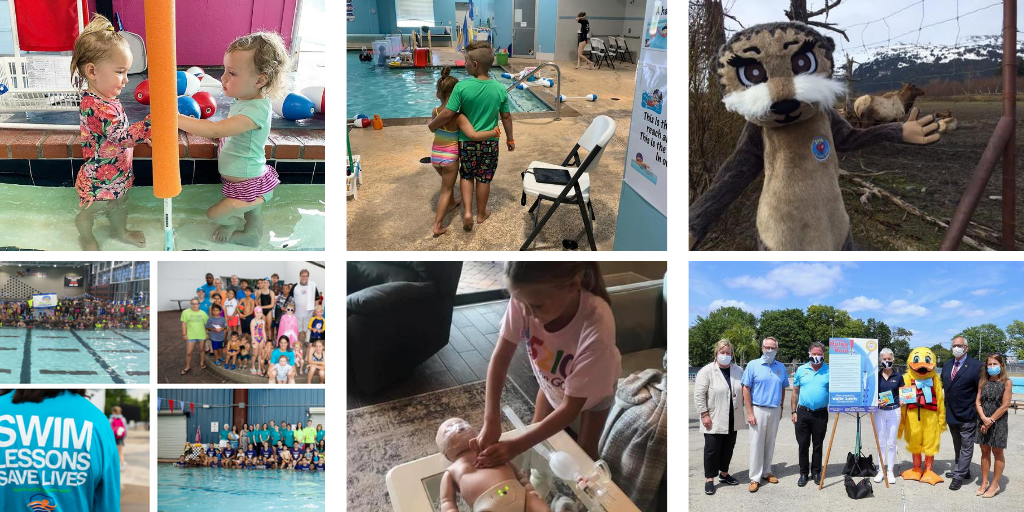 Our collaborators spent the summer teaching children life-saving skills and sharing drowning prevention messages with their networks. CPSC is proud to work with these water safety warriors who don't stop their important work even when faced with the challenges of COVID-19. Highlights include:
Houston Swim Club shared a photo of two swimming class friends who were reunited after a long break due to the pandemic restrictions (photo: top, left) and a supportive big brother walking his little sister to her first day of swim class (photo: top, middle).
Joshua Collingsworth Memorial Foundation's Josh the Otter kept busy by spreading water safety messages far and wide, including in Alaska where he is pictured (photo: top, right).
Over the past 10 years, Pool Safely has been proud to participate in the World's Largest Swimming Lesson events across the country. From Maryland to Texas to Virginia, we have raised awareness of the fact that swimming lessons can save While we could not take part in this year's WLSL in person, we were delighted to still join in the effort on social media (photo: bottom, left).
Safe & Healthy Children's Coalition of Collier County showed that you are never too young to learn CPR, which can lead to saving a drowning victim's life! This group shared a photo from a woman whose young daughter recently learned this essential skill (photo: bottom, middle).
Duckie, the mascot of Stew Leonard III Children's Charities, participated in a recent city council press conference in New York state where he shared water safety messages (photo: bottom, right).
Thank you for your continued interest in the Pool Safely campaign and staying connected with us, especially during these unprecedented times.
As always, please reach out to let us know about your initiatives that we can feature on social media or in the campaign newsletter. We are also happy to send you Pool Safely resources.
Through sharing the campaign's new PSA, CPSC hopes it can remind more families that while drowning sadly remains the leading cause of unintentional death in the U.S. for children ages 1-4, teaching critical water safety steps can help prevent these tragedies.
We wish you and your families all the best this fall and all year long.
Nikki Fleming
Pool Safely Campaign Leader
U.S. Consumer Product Safety Commission (CPSC)