Pool Safely Special Edition Newsletter: Keeping the Olympic Spirit Alive this Summer
August 19, 2020

Dear Pool and Spa Safety Community,
Summer 2020 has brought significant change, as families work to keep their loved ones healthy and safe from COVID-19. The coronavirus forced families to change or cancel their summer plans and events. The Summer Olympic Games, beloved by many, was postponed. Originally scheduled to take place in Tokyo in late July, fans and athletes alike will need to hold off on their excitement until next year.
Nevertheless, the Olympic spirit remains alive at CPSC, as we support one another through challenging times and continue to champion water safety across American communities. In honor of all water safety superstars, Pool Safely reflects upon and honors the campaign's involvement with Olympians over the years in this special edition newsletter. Keep reading to learn how you can win a medal in #WaterSafety too!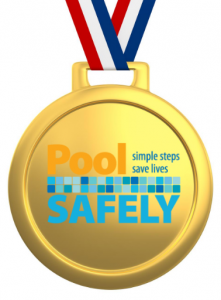 Olympians Share Water Safety Tips in Pool Safely's "Ask the Experts" Videos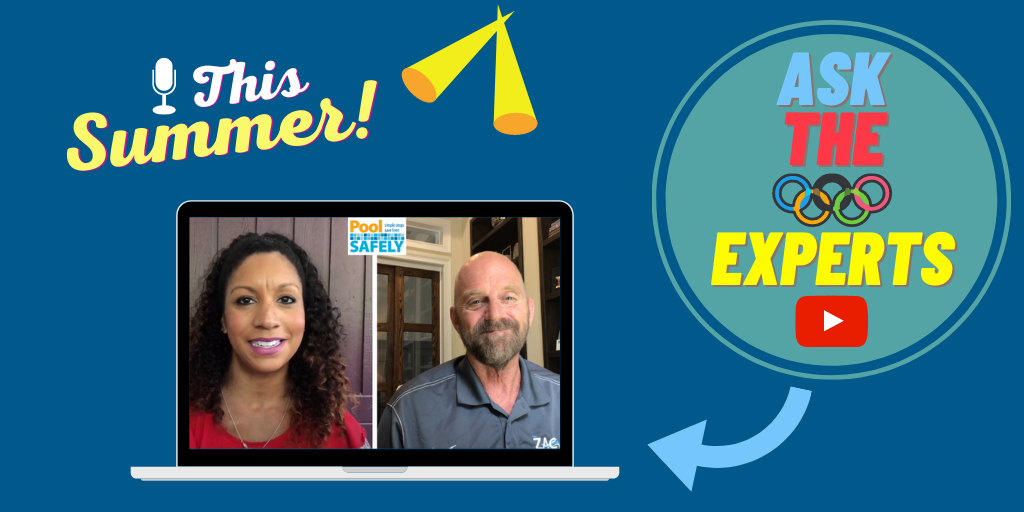 This swim season, Pool Safely is sharing water safety information virtually with families through its Ask the Experts video series. Contributors to the series include drowning prevention advocates, water safety experts, and two Olympic medalists! Maritza McClendon, the Olympic silver medalist who made history as the first Black woman to earn a spot on the U.S. Olympic swim team, reminds everyone in her video to always swim with a buddy, designate an adult Water Watcher, and learn how to swim. Three-time Olympic gold medalist Rowdy Gaines urges families to stay vigilant and commit to water safety before swimming this summer, especially as many families spend more time at home. Pool Safely is pleased to share this valuable advice from Maritza and Rowdy. Check out their videos, and don't forget to follow the tips they share!
Pool Safely at the Olympics and Collaborating with Olympians!
Over the years, Olympic swimmers have been essential collaborators on Pool Safely. These athletes have taken the Pool Safely Pledge, shared drowning prevention messages across social media, and highlighted the importance of learning to swim among their networks. Many have participated alongside Pool Safely in various initiatives and events.
Thanks to the USA Swimming Foundation, Pool Safely shared water safety messaging at the 2016 U.S. Olympics Trials in Omaha, Nebraska. At the Trials, Olympic swimmers Scott Usher and Nicole Kramer took the Pledge, and in a special video, Olympian Katie Ledecky collaborated with Pool Safely to discuss the importance of learning to swim.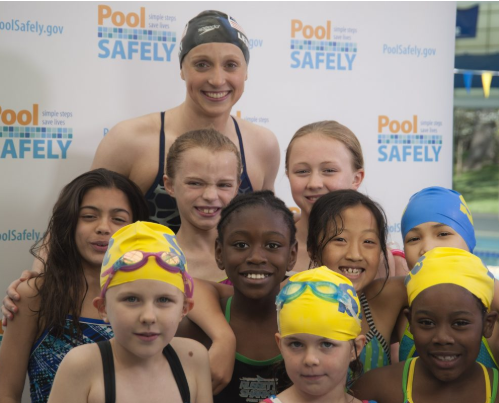 Pool Safely created a PSA, Faster than a World Record, to coincide with the 2016 Summer Olympics, and a second PSA, No Second Chances, aired during the games. Check out this blog post to learn more about Pool Safely's participation during the Rio Games!

Olympic swimmers have taken the Pool Safely Pledge to encourage others to be safer in and around the water. Beginning with Olympic champion Katie Ledecky, 15 Olympians to date, have taken the Pledge — and you can, too!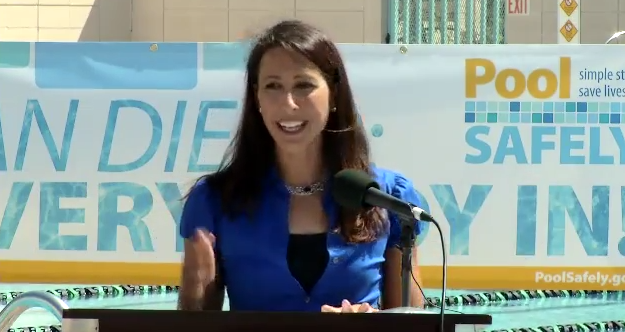 Over the years, Olympians including Janet Evans, pictured here at a 2011 Memorial Day weekend press event, have participated in numerous events with Pool Safely. These dedicated swimmers have encouraged water safety education and emphasized the importance of being safer in and around water.

Pool Safely had been proud about its ongoing collaboration with the Michael Phelps Foundation.
In 2017, Pool Safely co-hosted a water safety event in Chicago, with Michael Phelps. Phelps was joined by Australian Olympic medalist Grant Hackett and eight-time U.S. Olympic medalist Allison Schmitt. CPSC announced an official collaboration between Pool Safely and the Michael Phelps Foundation, and released its new drowning statistics for that year. The data showcased a 17 percent decrease in child drowning fatalities since 2010.
Summer 2018 was also special, as we hosted a joint water safety event in Peoria, Arizona, to honor a decade of water safety for both groups: it was the 10th anniversary of the Phelps Foundation and 10 years since the passage of the Virginia Graeme Baker (VGB) Pool & Spa Safety Act. The event featured a press conference, swimming lessons, a swim stroke clinic with swimmers from the Special Olympics of Arizona, and a water safety community event with nearly 100 local children.
Most recently, in 2019, the Phelps Foundation helped CPSC to air an existing Pool Safely PSA at an Arizona Diamondbacks MLB baseball game. The video PSA played after Michael Phelps threw out the first pitch, reaching more than 40,000 fans in attendance.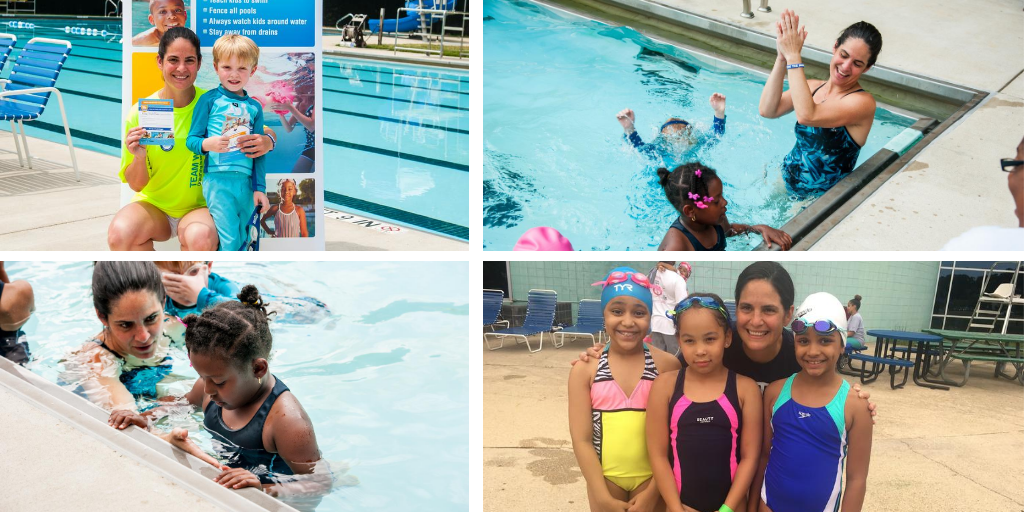 Olympian Maddy Crippen has also worked alongside Pool Safely as part of the annual World's Largest Swimming Lesson event, which is a global effort to spread the message that swimming lessons can prevent child drownings. Maddy has volunteered at the event by participating in swimming lessons and leading children in reciting the Pool Safely Pledge. We appreciate Maddy's collaboration on Pool Safely, along with many other Olympians, who tirelessly work to increase water safety awareness!
Earn your water safety medal this summer!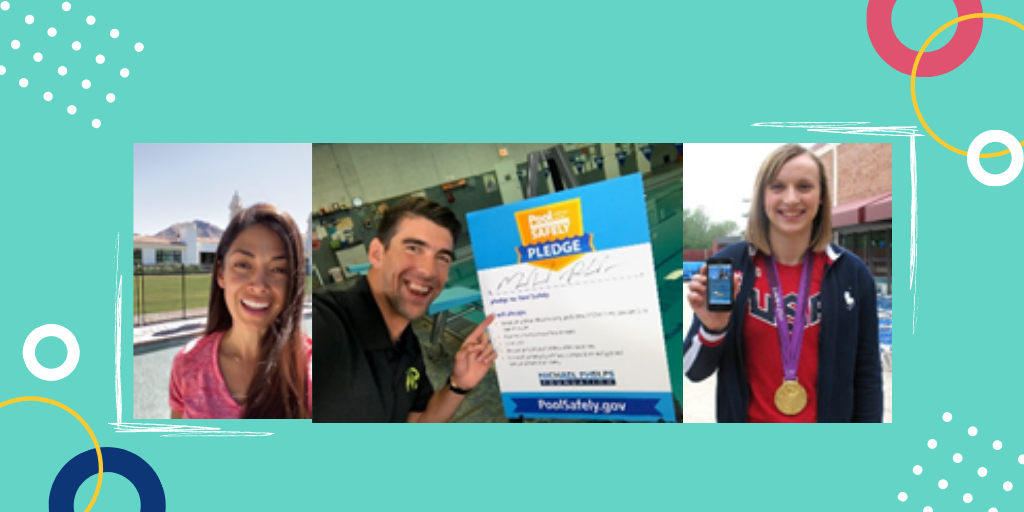 Although the 2020 Summer Olympics have been postponed, you and your family can join our nation's greatest swimmers in the fight to stop drowning. By following these simple steps, you can be a medal winner just like our favorite Olympians!
Olympians focus on the water. Practice a similar level of focus by ensuring there is a designated adult Water Watcher before your family goes in or near the pool. This person should not be reading, texting, using a smartphone or otherwise be distracted.
Olympians install layers of protection. This includes a four-sided fence with a self-closing, self-latching gate. Check out Nicole Phelps, Michael Phelps' wife, pictured above, in front of their family's pool's fence!
Olympic swimmers are prepared to help others. Learn how to perform CPR on children and adults by finding an online course offering online CPR training.
Olympians check the pool for safety devices. Follow their lead by checking for compliant drains, pipes, and other openings to avoid entrapments.
In addition to the Pool Safely safety steps, visit the Pool Safely Kids' Corner to keep children entertained and educated with water safety games and activities. And take the Pool Safely Pledge, just like Michael Phelps, Katie Ledecky and other Olympians!
CPSC has witnessed the creative ways in which educators, collaborators, and families have been carefully helping children learn how to swim during the COVID-19 pandemic. We are thankful for all of your efforts at a time when water safety is even more crucial than ever.
We hope you keep the Olympic spirit of fun, learning, and strength alive, while staying healthy and safer throughout the remainder of this season!
Nikki Fleming
Pool Safely Campaign Leader
U.S. Consumer Product Safety Commission (CPSC)